Are you looking for an electric kettle to make tea more effortlessly and easily but confused about whether to invest in a Zwilling electric kettle or not? Fret not, this Zwilling Enfinigy Cool Touch Kettle Review is definitely for you.
Looking for the best glass electric kettle? We've reviewed the top 7 kettles for you to select from.
Zwilling Enfinigy might be a new name for you as they launched the first range of electrical kitchen appliances in 2020. However, this German brand has been in the industry since 1731 for making unique and premium quality kitchen knives. Since they started recently many customers think investing in these appliances is a bit of a gamble and that's why we have written this review. [1]
Our team of experts has used and tested Zwilling Enfinigy cool touch kettle pro for months to give you a complete breakdown of where is Zwilling kettle made, its features, drawbacks, and whether it is worth spending your money on or not.
Zwilling Enfinigy Kettle Features
Specifications
Voltage: 120 Volt
Material: Stainless steel
Capacity: 1.7 Liters
Color: Silver, Rose, Gold, Black
Weight: 4.97 Pounds
Special Feature: Manual
Exquisite Design
If you're looking for a fast, sleek, and beautiful design electric kettle then this is the ideal choice for you. The kettle has a magnificent design with a shiny polished exterior that will give an aesthetic look to your kitchen. You can confidently serve your guest right with the kettle and display it on your countertop. Most importantly, the kettle is available in three different vibrant colors: rose, gold, and silver so you can choose which better suits your taste.
Heavy duty Construction
Apart from the beautiful design, the kettle is also highly durable. It's made of seamless stainless steel material that is not only rust and corrosion-resistant but also 100% hygienic. Both the interior and exterior are made of stainless steel and don't leach any chemicals into your drink. Also, the kettle is highly durable and sturdy, built to last for decades. So, if you're into something that lasts longer this is the right choice for you.
Extremely Fast
Another big advantage of this kettle is that it boils the water faster than other kettles. Even though it has a large capacity of 1.5 liters, it brings the water to a boil in 4 to 6 minutes only. So when the quantity of water is small it heats up even faster. As a result, you can make multiple cups of tea in no time, a perfect choice for those with a large family. Not only is it extremely fast but also offers advanced temperature control with six preset temperature settings, allowing you to choose the temperature with a single click.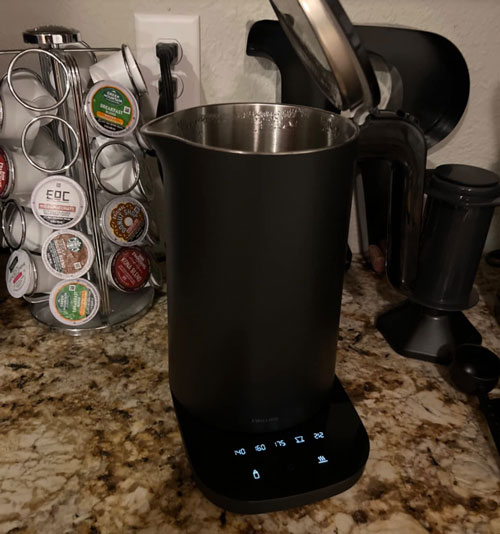 Highly Convenient & Versatile
This kettle is highly user-friendly and easy to use. The temperature control is bright and effortlessly easy to use. You can choose the desired temperature with a single touch. Also, there is a keep warm feature in the kettle that allows you to keep the tea at the desired temperature for more than 30 minutes.
Want to get some tips for Cuisinart electric kettle cleaning?
Most importantly, the kettle stays cool and barely gets hot while brewing the tea. The handle stays cool even if you brew the tea for a longer time. Also, the lid opens only to 70 degrees and hence prevents your hands from direct contact with steam. The spout is smooth and upright with a built-in filter that ensures the smooth and consistent pouring of the tea every time. [2]
The only drawback that we found in the kettle is the kettle gets hot when heated for a longer time and it's not lightweight so it may be difficult for children or the elderly to pour the tea with only one hand. Overall it's a great product, it may be a bit pricey for some people but the advanced features and sturdy construction make it worth each dollar. The kettles also accompany Zwilling Enfinigy cool touch kettle pro manual guide, so if you find any problem you can refer to the guide for troubleshooting steps.
Final Verdict
In a nutshell, Zwilling Enffingy electric kettle may be a new product in the kettles world but it is highly durable, reliable, and convenient with easy-to-use temperature control and a cool handle that makes the brewing and pouring process extremely easy and effortless.
We hope that this guide will help you in your decision whether to invest in this kettle or not. If you have decided to buy this kettle please don't forget to share your experience in the comment section below. We would love to hear from you guys.