Immersion blender also known as hand held blender can be a more convenient, user friendly and hassle free alternative to a full blender as it can be used easily and doesn't require much space in your kitchen cabinet. You can use it for a variety of tasks such as blending smoothies, whipping cream, whisking eggs or purring baby food right in the pot rather than using a full blender.
Looking to buy the best blender under 100? We've reviewed top 10 blenders under $100.
Although hand held blenders are portable and convenient, there are still a few things that you need to consider before buying one.
First, there are various types of hand held blenders such as corded and cordless hand blenders. Cordless hand held blenders are more convenient and easy to use but you have to remember to charge them while with a corded blender you can use it right after plugging in.
Second, there is no standard size blade attachment to the hand held blender.
So, if you want to blend smoothies, soup or salad dressing you need to pay attention to the diameter of the blade. [1]
Keeping these points in mind our testers have tested some of the best hand blenders on the market and they found Cuisinart as one of the best hand held blenders under 100.
Cuisinart CSB-179 Smart Stick Hand Blender Features
Cuisinart is the name that has been leading the culinary world for decades and their products' performance and quality has set the benchmark for all other manufacturers in the industry. Their food processors and blender live up to the brand reputation and give quality performance that home chefs desire.
Cuisinart CSB-179 Smart stick immersion blender is also not an exception. This versatile and durable deliver quality performance with minimum noise and consistently blend all the smoothies, pureed soups, emulsify mayonnaise and whipped cream and eggs.
Specifications
Detachable blending shaft and bell base
Chopper/Grinder attachment
Reversible chopper/grinder blade
Whisk attachment
Detachable whisk gear box
16 ounce blending cup
Two soft touch low and high buttons
CSB-179 motor housing unit
USer Manual
3-in-1 Functionality
The Cuisinart CSB-179 Smart Stick Hand blender is more than just a simple immersion blender. It comes with a detachable chopper, grinder, and whisk which allows you to perform various blending tasks without hassle.
So now you don't need to pull out your food processor or stand mixer to whip cream, blend smoothies or puree soups as you can do it with only this immersion blender. Just change the attachment to whisk or chopper as per your desire and get the job done quickly.
Solid Construction
The Cuisinart solid immersion blender comes with a 300 watt power motor embodied in a stainless steel unit. There are two buttons on the stainless steel shaft that allows you to control the speed. So you can easily change the speed from high to low rather depending on the preset setting. It also has a release button at the top of the unit that allows you to detach the attachment without any hassle.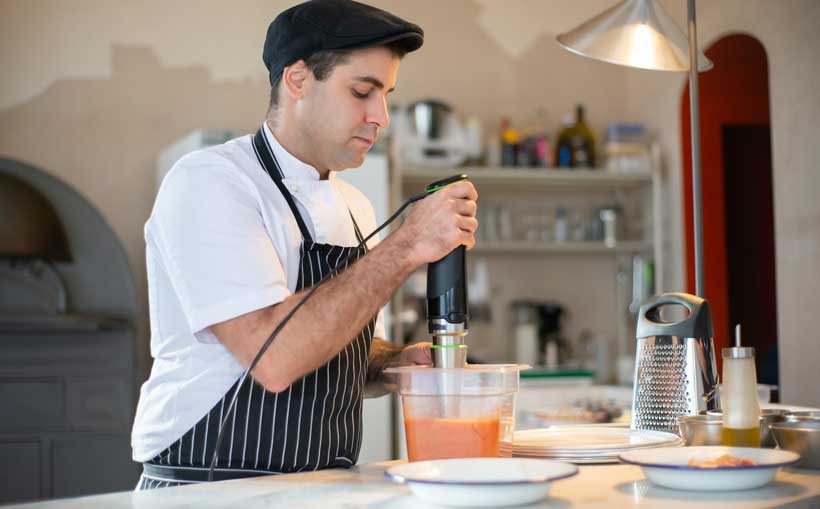 User Friendly
The immersion blender is not only made with premium quality material but also highly convenient to use. It has an ergonomic handle that provides a strong and sturdy grip so you can easily do your blending task without spilling or splashing.
You should check the Breville hand blender review before buying it
Moreover, the detachable immersion shaft tapers down into a bell-shaped blade guard to protect your hands making it one of the best hand blender for whipping cream and whisking eggs. Also, the cuisinart attachments are dishwasher safe making the cleaning process further straightforward and effortless. It  also has a long cord that make it easy to use and gives the convenience of cordless hand blender amazon . [2]
Final Verdict
Cuisinart SCB-179 smart stick blender comes with all the features that you need in a top-notch immersion blender to do your daily blending task without enough splattering and suction. It is highly durable and versatile with various attachments that can cover almost all your needs. It is both easy to use and portable and comes at a highly affordable price.