Choosing the right coffee beans is critical to extract the best possible taste and aroma in your favorite cup of joe. But choosing the right coffee beans can be challenging as there is a wide range of options in the market. So, if you're looking for a new edition of dark roast coffee to make a delightful cup of coffee every morning and need help deciding. Our Starbucks Roast Dark Roast Ground Coffee Review is just for you.
What type of coffee beans is best for cold brew?
Starbucks is a leading brand in the coffee world and they have been continually raising their bars to produce the best coffee beans for coffee lovers. In this Starbucks dark roast review, we have provided a complete breakdown of Starbucks dark coffee so you can effortlessly choose which Starbucks dark roast blend suits your taste and desires.
So let's have a look.
Why Choose Starbucks Dark Roast Instant Coffee?
Starbucks offers premium quality coffee beans with a rich and earthy aroma that will make you feel refreshed instantly. Their beans are different from usual Arabica beans and are strictly tested to meet the standards set by the company.
Starbucks coffee is packed with heavenly delicious flavors that can instantly delight your taste buds and enough caffeine content that can keep you energetic for a whole day.
Here are some of the dark roast Starbucks iced coffee options that you can try while making iced coffee at home. [1]
1. Starbucks dark roast Sumatra
Starbucks dark roast Sumatra is the first option we have on the list with a more down-to-earth taste and flavor. This coffee offers an intense bold coffee with a spicy taste and deep aroma to make you feel refreshed throughout the day.
The coffee is made with 100% Arabica beans passed through three-stage testing and time-honored roasting to offer you the real rare aged Sumatra.
2. Starbucks dark coffee Verona
If you're looking for a more well-balanced dark roast coffee with intense flavor and heavenly aroma then Starbucks dark coffee Verona might be the right choice for you. This coffee comes with a rich flavor and dark cocoa texture that you will become addicted to for sure.
How to make cold brew coffee? We've listed 5 easy steps to make a cold brew coffee.
This coffee is made from ethically sourced Arabica beans to offer a more balanced full-bodied coffee with a rich and unique taste.
3. Starbucks dark coffee Italian roast
If you're looking for something bold in the morning then Starbucks Italian roast is the ideal choice for you. Coffee beans for Italian are sourced from the Asia-Pacific region and Latin America to deliver premium quality taste and flavor to coffee lovers.
These coffee beans deliver a rich coffee flavor with strong notes of chocolate and caramelized sugar to intensify them. Although the coffee produces a dark flavor, it tastes sweeter and doesn't contain any burnt flavor or smokiness, making it a perfect option for cold brew at home.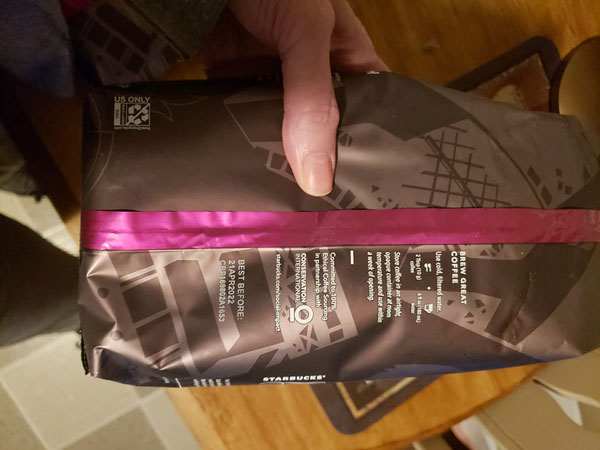 4. Starbucks dark coffee French roast
Starbucks dark roast french roast is one of the most exclusive flavors of Starbucks dark roast coffee. It comes with an earthy and heavenly delicious smoky flavor with strong notes of dark caramel.
When brewed it produces lovely caramelized tunes aroma with a sheen of aromatic oil that true Starbucks fanatics fantasize. What's more, the dark roast coffee Starbucks calories count is the lowest for this coffee making it an ideal option for coffee aficionados on diet.
Want to know who owns stone street coffee? Checking our guide will answer the question.
Although the beans have a roasty smell and smoked quality, they never taste burnt. So, if you want a more robust flavor with strong aftertaste roasty overtunes then this is the right choice for you. Starbucks dark roast coffee caffeine content is higher in french roast as compared to the other options. [2]
Final Verdict
Starbucks dark roast coffee is bold, rich in flavor, and has an earthy aroma to drive you crazy in an instant. So, if you're looking for the best Starbucks coffee for a cold brew then this above list would be of great help to you. Carefully read the above article and choose the right coffee with your favorite flavor.