We all know nothing is more dangerous than a dull knife in the kitchen. For a safe cooking experience, you must keep your knives sharpened and honed. But that's not possible if you don't have an efficient sharpener in your hand. If you try to look for a sharpening tool, one name that you will often hear is Smith's sharpener tool.
Check our reviews to find the best electric knife sharpener Amazon.
This china-based brand has produced a broad range of knives, tools, and sharpeners that enhance your cooking experience and make it more pleasant. They produce various kinds of knife sharpeners, both manual and electric, ranging from simple to complex, cutting-edge products.
Today we will review one of the best elite electric sharpeners from the Smith sharpener tools series. We will also discuss how to use Smith's diamond combination sharpener and sharp, more consistent cutting edge knives.
Smith's Sharpener Tool Features
Design
Smith's diamond edge elite knife sharpener is designed to sharpen all your kitchen, sport, and hunting knives and keep them razor-sharp so you don't get hurt with dull knives. The sharpener comes in a unique wheel shape with a flat bottom and non-slip feet that ensure a firm grip over the ground. This means the sharpener will not slide or fall over during the sharpening process making it safe to use at home.
It has three sharpening stages: coarse, fine and extra fine sharpening of the blades. The Coarse and Fine sharpening stage comes with two slots, while the serrated one has a single slot. Each slot comes with crossed ceramic stones at correct finishing angles that provide freshly honed razor-sharp edges to your dull or already sharp or serrated knives and keep them ready for prepping the food.
How do you use a Presto knife sharpener?
All you need to do is match your knives with the appropriate stage according to the blade condition (dull knives with coarse stage, already sharp with fine stage) and sharpen it in a few seconds. [1]
Performance
The Smith's sharpener is pretty comfortable to use as it comes with blade guides that keep the knives at the correct angle, while the wheel design provides a smooth cutting edge to your knives. What's more, the manual pull-through stage between coarse and fine slots is relatively easy to use for honing the serrated portion of your knives.
At the same time, the flat bottom and non-slip feet keep the sharpener intact to the ground and prevent accidents.
However, it is essential to note that you have limited control over the process when you use an electric sharpener. It is not the same as manual sharpening stones. Thus, it may be tricky for beginners, and they might alter the blade edge or ruin it completely. [2]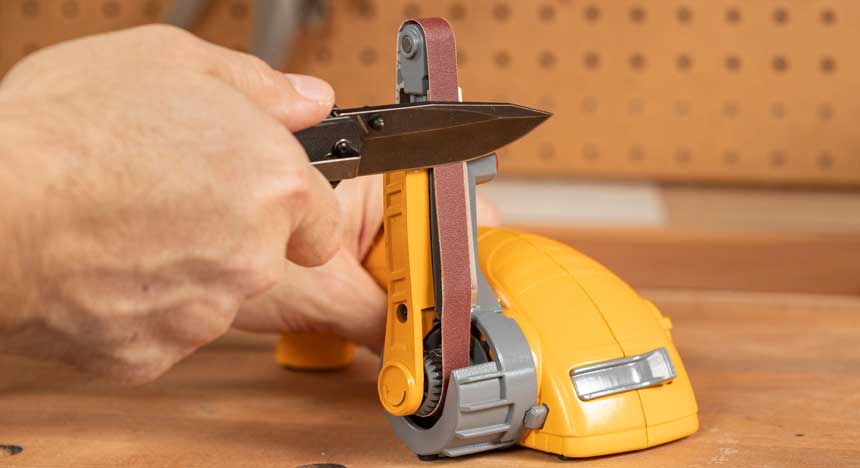 Price
Smith's Diamond edge sharpener may not be the cheapest in the market, but it is also not overly priced. The sharpener offers professional results and is made with premium quality material that makes it worthy of each penny you spend.
What are the best hunting knife sharpeners? Checking this brief article can answer the question.
Do Not Buy Smith's Diamond Edge Sharpener Tool If…
Smith's diamond edge sharpener has smaller slots. Thus, it won't work on thick blades. So, if you have thick blade knives in your kitchen, you should reconsider buying Smith's knife sharpener. Still, if you're satisfied with its performance and can afford another one, try to look for another sharpener compatible with thicker blades.
Final Verdict
Whether you're going to sharpen your dull or already sharp knives, this little gem is worth more than your money. It has all the features that you need in a sharpener to keep your knife razor sharp and honed.
Most importantly, this brand also offers Smith's sharpener replacement blades, which you can replace whenever your sharpener blade gets dull. This means you don't need to spend money repeatedly to keep your sharpener up-to-date.