Are you tired of playing the waiting game every time you want a hot cup of tea or coffee? Do you find yourself staring at your old-fashioned kettle, wishing it could magically heat up faster? Well, put down that dusty relic and step into the 21st century with the Poliviar Electric Gooseneck Kettle. In this article, we have written a detailed Poliviar Electric Gooseneck Kettle Review to help you find the best stovetop gooseneck kettle & whether it is worth your money or not. 
This sleek and stylish kettle is the perfect solution to all of your boiling woes. It not only boils water in a flash, but its gooseneck spout allows for precision pouring, ensuring you never waste a drop of your precious liquid gold. Trust me, after just one use, you'll wonder how you ever survived without it.
So, buckle up and get ready for a ride through the world of the Poliviar Electric Kettle – your taste buds will thank you! [1]
Poliviar Gooseneck Electric Kettle Features
Specifications
Capacity: 2.1 Pounds
Color: Stone
Material: Stainless steel
Special Features: Whistle, Temperature control, Rapid boiling, Automatic shut-off
Design: Aesthetic and Stylish
The Poliviar electric gooseneck kettle has a sleek and exquisite design that will suit any kitchen style from vintage to modern. The stainless steel body gives it a modern and professional look, while the gooseneck spout adds a touch of elegance. This means you can gracefully serve your guests with this kettle and display it on your countertop.
The handle is ergonomically designed to provide a comfortable yet sturdy grip for effortless and precise pouring. The kettle also has a convenient temperature gauge located on the lid that displays the current temperature of the water.
Construction: Sturdy and Durable
The Poliviar electric gooseneck kettle is built to last. The stainless steel body is durable and resistant to rust and corrosion, ensuring that the kettle will maintain its sleek appearance for years to come. So, if you're into something that lasts for decades this is the ideal choice. But what we loved the most isn't the material but the stone texture color of the kettle body.
The gooseneck spout and handle are also made from high-quality materials that are resistant to wear and tear, so you can pour with confidence. The wooden handle and lid stay cool despite the kettle temperature so you can pour the coffee without burning your hands.
Advanced features for effortless brewing
One of the standout features of the Poliviar electric gooseneck kettle is its advanced temperature control system. With a temperature range of 104°F to 212°F, you can easily adjust the temperature to your desired level. So, whether you want to make coffee, green tea, white tea, oolong tea, or black tea, you can adjust the temperature effortlessly on this kettle, eliminating the need for guesswork.
The kettle also comes with a beep function that alerts you when your tea or coffee is ready. So, you don't need to sit near the kettle waiting for the water to boil. That's not all, The kettle also has an auto shut-off feature that kicks in after the water has reached the desired temperature, ensuring that the appliance does not overheat. Consequently, you can multitask while brewing the coffee without worrying about over-boiling water. This feature also prevents your kettle from damaging when the kettle is turned on without water.
You should check the Bonavita gooseneck kettle review before buying it.
Additionally, there is a keep-warm function that will maintain the water temperature for up to 120 minutes. Press the keep warm feature after setting the water to boil, it will automatically keep the water at desired temperature after boiling. So, even if you're away from the kettle for a long time your tea will remain hot for two hours. This is especially useful for those who like to enjoy multiple cups of tea or coffee during the day. [2]
Performance: Straightforward and User-friendly
The performance of the Poliviar electric gooseneck kettle is impressive. The kettle heats up quickly compared to other kettles and boils 1 liter of water in just five or seven minutes. The time will be less in case of small quality. This means you can make 1 cup of coffee or tea in just one or two minutes.
The gooseneck spout ensures precise and spill-free pouring straight into your cup. This makes it easy to control the flow of water when making pour-over coffee or tea. The temperature control system is accurate, reliable, and easy to use, ensuring that you can enjoy your hot beverage at the perfect temperature every time. The keep-warm function is also a great addition, allowing you to enjoy multiple cups of tea or coffee without having to constantly reheat the water.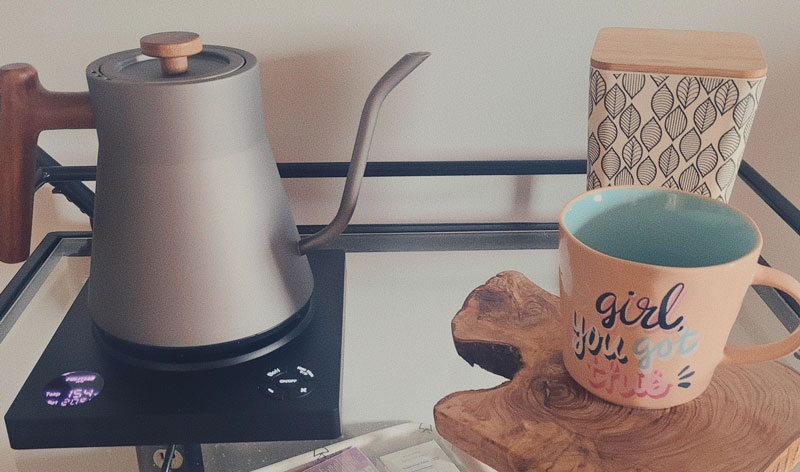 Price: Best value for money
The Poliviar electric gooseneck kettle is priced competitively compared to other electric kettles on the market. While it may be slightly more expensive for those who are looking for a budget option, the advanced features and durable construction make it well worth the investment. With a price tag of around $50, the Poliviar electric gooseneck kettle 1200w electric tea kettle w/teak wood handle is a great value for its performance and features.
The Oxo gooseneck kettle manual gives you a comprehensive usage help about it.
Final Verdict
The Poliviar electric gooseneck kettle is a modern and efficient appliance that has taken the coffee and tea world by storm. Its unique design, advanced features, and reliable construction have made it a favorite among both amateur and professional baristas.
For some people, it may be slightly more expensive than some of the more basic electric kettles on the market, but the convenience and versatility make it worth the price. So, if you're in the market for a new electric kettle, the Poliviar electric gooseneck kettle is worth considering.