The Bonavita Gooseneck Kettle is like the Swiss Army Knife of coffee brewing. It's sleek, versatile, and essential for anyone who takes java seriously. Whether you're a pour-over aficionado or a French press fanatic, this kettle is a game-changer. But does this kettle worth the hype? Read the Bonavita Gooseneck Kettle review to find out.
Looking for the best electric gooseneck kettle? We've listed the top 10 kettles for you to select.
As any coffee connoisseur will tell you, the secret to a great cup of joe lies not just in the beans but in the brewing process. In the world of coffee, precision is key. If you're tired of uneven extractions and inconsistent flavor in your pour-over coffee, it's time to upgrade your kettle. And the Bonavita Gooseneck Kettle is the ultimate choice for serious coffee drinkers who demand precision, control, and style in their brewing process. With its sleek design and unparalleled control, you'll be able to create the perfect cup of coffee every time – no matter your preferred brewing method. [1]
But is it worth the investment?
Let's take a dive into the features of this incredible kettle:
Bonavita Electric Gooseneck Kettle Features
Specifications
Material: Stainless steel
Color: Silver, Black
Capacity: 1 Liter
Wattage: 1000 Watts
Special Features: Precise temperature control, gooseneck spout
Design and Construction
The Bonavita Gooseneck Kettle is made with durable stainless steel, which is rust and corrosion-resistant. This means the kettle is highly durable and build to last for a long time. So, if don't want to replace your kettle after a short time and looking for something more durable this kettle is right for you.
Another thing that we loved is the sleek and stylish design that sets it apart from other kettles. The kettle is designed with a gooseneck spout and an ergonomic handle, which makes it easy to pour with precision and control. The lid fits snugly and securely, preventing any accidental spills or leaks. The only drawback we found is that the base, handle, and base are made of plastic which makes it look cheaper than the price.
Other Features
The kettle comes with a temperature control panel, which is a nice touch for coffee enthusiasts who want to ensure that their water temperature is just right. You can read the temperature in real-time and turn off the kettle when the water reaches the boiling point.
You can simply pre-set the desired temperature and start brewing your tea or coffee. The kettle delivers a strong power of 1000 wattage that quickly heats the water and helps you to brew the coffee. In general, it takes 6 to 7 minutes to brew maximum-capacity water, which means you can easily make 4 cups of coffee in no time. And when the capacity is smaller, it would take even lesser time.
The kettle also comes with a gooseneck spout that ensures a smooth and precise pour straight into your cup. It prevents the coffee from spilling on the surface and provides consistent pouring every time. Since the handle is made of plastic, it stays cool to the touch and doesn't get hot despite the internal temperature. This means you can get a more comfortable and sturdy grip on the kettle and prevent accidental burning and spilling.
The kettle is also easy to clean, thanks to its stainless steel construction and simple design. The lid and spout can be easily removed for cleaning, and the kettle can be washed by hand or in the dishwasher.
Performance
Ultimately, the performance of the Bonavita 1.0l Electric Gooseneck Kettle is what sets it apart from other kettles on the market. The gooseneck spout and ergonomic handle allow for precise and controlled pours, which is essential for achieving even extraction and optimal flavor in your coffee.
Going to buy the Poliviar electric kettle? Check our brief overview about it.
Additionally, the control panel is also a helpful tool for achieving the right water temperature for your brewing method. It is large and has separate buttons for each purpose making it very easy to change the temperature. Whether you're using a pour-over, French press, or any other method, the Bonavita Gooseneck Kettle is an ideal choice. The kettle also comes with a Bonavita gooseneck kettle manual, which is easy to read and provides a step-by-step guide on how to use the kettle. [2]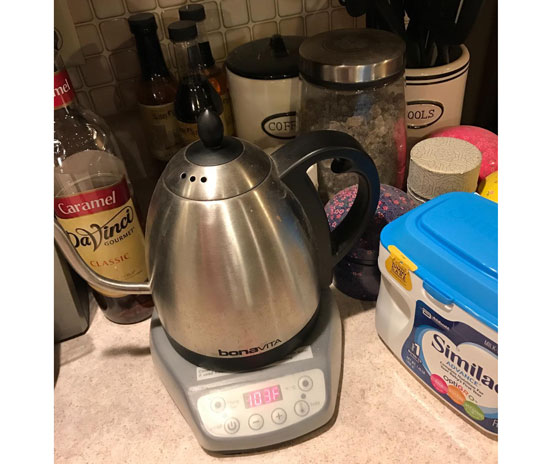 Prominent Pros
Durable and convenient
Ergonomic handle
Sleek & stylish design
Safe and easy to use
Precise temperature control
Notable Cons
No audible indication
Static temperature preset settings
Final Verdict
Are you a coffee lover who loves the science and art behind the perfect cup? The Bonavita Gooseneck Kettle is a game-changer for coffee enthusiasts who demand precision and control in their brewing process. This sleek and stylish kettle is designed to offer unparalleled control over your pour, allowing you to achieve even extraction and optimal flavor in your coffee.
The kettle is highly durable, and convenient and comes at a very affordable price, making it a perfect budget option.