Following its invention, Moka pots are wildly popular among coffee enthusiasts for their quality taste and effortless brewing technique. There are various moke pot brands all around the world with versatile designs and marvelous performance but no one was able to beat the original Moka pot Bialetti.
Are you looking for the best moka pot? We've reviewed top products for you to find one.
Since their invention in 1933 by Bialetti, these Moka posts have been popular all around the world and people blindly trust this brand for its outstanding performance and get-to-go design that provide full control over coffee taste and flavor and brew it in a few minutes.
While looking for the best Moka pot, we tested the top-rated Moka pots alongside Bialetti Moka pot stainless steel and you will be surprised to know Bialetti stands out at the top in a number of areas such as construction quality, size, Performance, price, and maintenance. [1]
So, if you're also looking for the best Moka pot to enhance your brewing experience we would suggest you read the Bialetti Moka Pot review to find out why it's worth it.
Bialetti Moka Pot Features
Versatile Design
One of the first things that we loved about this Moka pot is the hourglass shape design that will give an esthetic Italian look to your kitchen. Now you don't need to hide your Moka pot in the kitchen cabinet, you can confidently place it on your cabinet top and show it to your guest. After all, it is one of the most influential 20th-century designs.
It is effortlessly easy and straightforward to use. It is composed of three main parts: A bottom chamber for putting water, a middle filter for coffee grounds, and the top chamber where coffee percolates after brewing. When you put the Moka pot on the stovetop, pressure builds in it which percolates the water from the bottom chamber through the coffee ground producing a rich and bold brew for you to enjoy. With Bialetti moka pot induction and stove top compatibility you can use it on both without any hassle.
Performance: An excellent alternative to espresso
We tested it to make a latte, cappuccino, and espresso and we were really impressed by the performance. It brews richer and bold coffee than any other drip machine. Although, it doesn't make a true espresso still it's an excellent budget-friendly alternative for real espresso makers.
We loved the amount of control it provided our coffee. For instance, if you want to brew a bold punch of coffee you can use a finer grind, high heat, and less water, while medium ground with larger amounts of water for drip coffee. So, in a nutshell, we have complete control over the brewing process. For more accurate instructions you can follow the Bialetti Moka pot how-to-use guide. [2]
Construction: Solid, Compact, and Tight
Among all the Moka posts we tested, Bialetti stands out for its solid and durable construction. Made with premium quality aluminum this product is bound to last for decades. Even after years of use the chamber will not lose or the gasket will seal well. You don't need to wash the Moka pot with any detergent, just rinse it with fresh water after every use. Also, it's not dishwasher-safe.
Excellent Taste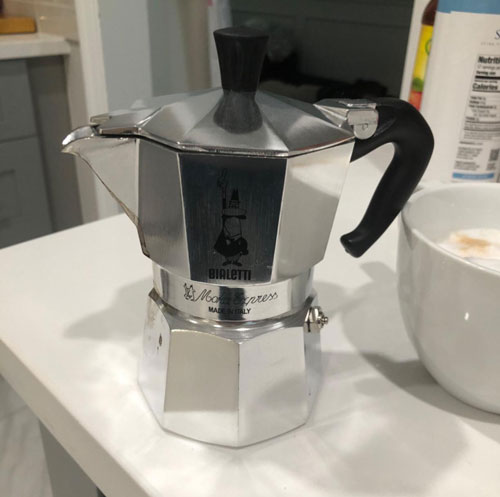 You will get the perfect taste with Bialetti Moka Pot. Unlike other Moka pots, it doesn't release any chemicals or contaminate the coffee taste. As a result, you get the perfect blend of coffee every time. Also, it took only 3 minutes to brew medium ground coffee on high heat and 10 minutes for fine ground with medium heat.
Bialetti Moka Pot Sizes
Another interesting fact is that you can buy Bialetti Moka Pot in any size from one to 18 espresso-sized cups. So If you want to buy it for a couple of servings of Bialetti Moka pot 3 cups would be an ideal option for you. However, if you're looking for the whole family you can choose between the wide range of sizes up to 18 cups.
Is the Alessi moka pot induction?
Best Value for Money
It may not be the cheapest Moka pot in the market but considering the fact that it's highly durable with a versatile design and provides a perfect cup of joe it's worth your money. However, it's significantly cheaper than all the electric brewers such as espresso, drip machines, and pour-over. So, if you're looking for an inexpensive alternative to those high-priced espresso machines it is the ideal option for you.
Final Verdict
So, In a nutshell, Bialetti is one of the most durable Moka pots with an exquisite design that you can proudly display in your kitchen and give as a gift to your loved ones. It is pretty easy and effortless to use and you don't need to pull many strings in order to make your favorite cup of strong coffee in it.
It is highly versatile and you can make a latte, cappuccino, or even espresso and enjoy your favorite coffee without spending a large sum of money.
Apart from a few downsides, it's worth every penny. So, don't think too much bring this majestic tool and start brewing.
Happy Brewing!