In the coffee world moka pots hold a special place due to their versatile functionality and novelty. They are great, too-expensive drip coffee makers, french presses, and espresso machines. That's why we decided to write a detailed review of Alessi Moka Pot 9090. In Alessi Moka Pot review we have covered all the facts from its unique design to construction, performance, and much more to provide complete insight about that specific model. [1]
Want to buy the best Moka pot for an electric stove?
Alessi Moka Pot Features
Unique Design
Made in Italy and designed by the world's renowned designers, this Moka pot makes the perfect cup of espresso that has impressed people all around the world. To analyze its performance and durability we asked our team of experts to test this moka pot and here is what they found.
Unlike all other Moka pots, Alessi stainless steel Moka pot has an incredible bulbous shape that will surely highlight on your stovetop. Designed by Richard Sapper, this moka pot design is so famous that it was even included in the Permanent Design Collection display at the MOMA (Museum of Modern Art) in New York City as well as has won the Compasso d'Oro Award in 1979. This means you can proudly place it on your cabinet top or serve your guest with grace.
Sturdy and Durable Construction
Alessi Moka pot stainless steel not only has an exquisite design but it's also well-built to last for decades. It is made with pure stainless steel that is rust and corrosion-resistant. From the top chamber to the inner filter and bottom chamber everything is made of stainless steel material. So, unlike other aluminum Moka pots, it will not corrode easily and you can use it for decades and even pass it down to your children.
Ergonomic Handle
Since we brew coffee on the stovetop so the handle gets hot easily and sometimes we end up burning our hands and spilling the coffee. But that's not the case with Alessi Moka Pot 9090. To ensure a comfortable and sturdy grip this moka pot comes with an ergonomic plastic handle. This handle stays cool so you can smoothly pour the coffee without burning your hand or spilling it on the ground.
Ease of Usage
One of the biggest advantages of the Alessi Moka pot is, it's awfully easy to use. You don't need to screw nuts or bolts, simply fill the bottom chamber with water and put the coffee grounds in the filter, and tighten the top chamber. Now, place it on the stovetop and your coffee will brew in a few minutes. So, on a busy working morning, it's an excellent way to recharge you for an active and energetic day. [2]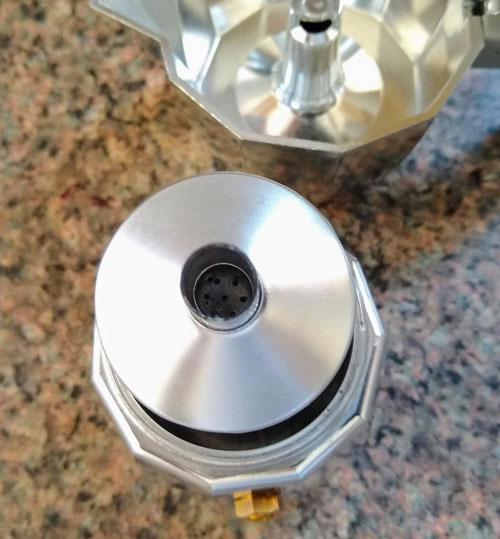 Capacity
You can effortlessly make up to 10 full cups of espresso in this moka pot. So, if you have a large family it's an ideal option to brew espresso for all members in one go. However, if you're looking for a small one, Alessi also offers moka pots in small sizes from 1 cup to 3 and 6 cups.
Ease of Cleaning
Moreover, Alessi Moka pot induction compatibility allows you to use it on both gas stovetops as well as an electric stovetop. It is also pretty easy to clean, you don't need to wash it with soap, simply rinse the clean water every use. We will suggest you carefully read Alessi Moka pot's instructions written in the manual for further clarity. [3]
Going to buy a moka pot? Checking the Bialetti moka pot review will help you.
Prominent Pros
Unique Design
Highly durable and user friendly
Smooth and consistent pouring
Ergonomic handle for safety
Easy to clean
Notable Cons
Not dishwasher safe
Expensive as compared to others
Final Verdict
So, in a nutshell, Alessi is an excellent Moka pot with an absolutely gorgeous design and sturdy build. It's awfully easy to use and you can prepare your favorite coffee within a few minutes. However, the only drawback is, it's a little more expensive than other stovetop moka pots. But the exquisite design makes it worth spending large amounts of money.