Fishing is an interesting hobby and most people seem to enjoy it. However, filleting a fish afterward can be really challenging if done with a traditional fillet knife. On the contrary, an electric fillet knife can be your best companion for cleaning the fish. The best electric fillet knife can be extremely convenient and helpful and you can effortlessly fillet a bunch of fish in no time.
So, Can you fillet fish with an electric knife?
Yes, an electric fillet knife can efficiently reduce stress and strain so you can do everything quickly without hassle. Most importantly, an electric fillet knife can precisely remove the bones, ribs, and skin without damaging the fish's flesh; that's something difficult to achieve with a traditional knife.
Although most electric knives seem frightening, they come with various safety features that can make them completely harmless if used with care. So, if you're also planning to buy the best fillet knife but are not sure which one to choose, the Bubba Electric knife might be the ideal option for you. It is one of the best electric fillet knives for catfish, crappie, and others. Below is the complete breakdown of the Bubba Electric knife and why it is worth spending your money on.
Bubba 110V Electric Fillet Knife Features
Specifications
Brand: Bubba
Color: Multi
Power Source: Corded Electric
Handle Material: Stainless steel
Blade Material: Stainless Steel
Weight: 3 pounds
Style: Chorded, 4 Tri-Nitride
Length
Whether it is a regular kitchen knife or a fillet knife, the length of the blade is of utmost importance. It not only affects the flexibility of the blade but also the balance as well as behavior of the knife. People generally overlook the length of the blade but it can make the filleting extremely difficult.
For instance, Knives with shorter blades tend to be more flexible and can work better on small fish only. If you want to cut large fish you need a more sturdy and large blade. Thankfully, Bubba fillet knives offer blades of various lengths such as 7" E-FLEX, 9" E-FLEX, 9" E-STIFF, and 12" E-STIFF blades. So, if you want to fillet small to medium size fish, you can use 7" E-FLEX and 9" E-FLEX blades. However, for cutting medium or large fish 9 E-STIFF and 12 E-STIFF blades are ideal choices. [1]
Blade Material
Unlike standard kitchen knives, fillet knives are likely to be used on fishing expeditions, thus they are more likely to be exposed to saltwater. That's why the blade material should be highly rust and corrosion-resistant. Fortunately, Bubba electric knife comes with carbon stainless steel blade material that ensures the blade remains rust and corrosion free even if it's exposed to saltwater. This means you can easily use the bubba knife to cut the fish without any fear.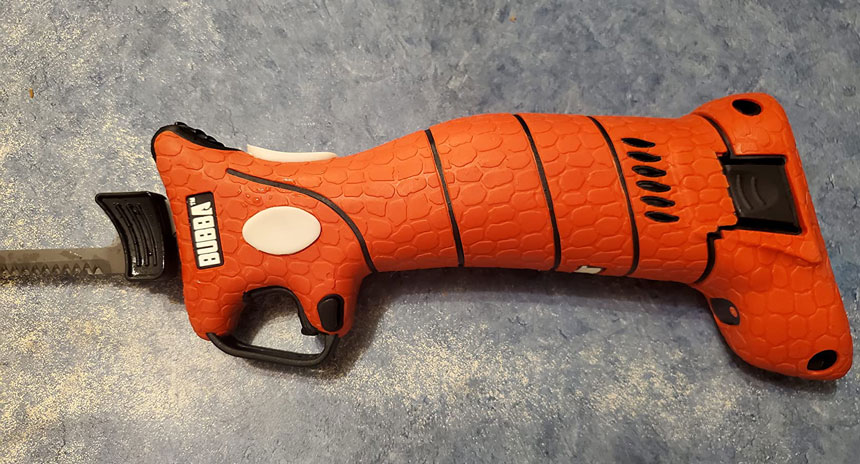 Handle
Another thing that we liked about this excellent fillet knife is the long and sturdy handle. The handle is made of a non-slip material that ensures a comfortable and strong grip over the knife so you can make precise and clean cuts without any hassle. Also, the trigger guard allows you to have complete control over the knife with additional safety features.
Reading the Rapala fillet knife review will give you a brief overview of it.
Handle the feature, an LED battery life indicator that alerts you when the knife is going out of power, so you can always charge your knife ahead of time.
Lightweight
Apart from the comfortable grip and rust-resistant blades, this knife is lightweight. This means you can effortlessly cut a bunch of fish without putting stress or strain on your wrist. So, if you have a large family or run a restaurant where you need to cut a lot of fish every day, this is the best electric fillet knife for you.
Final Verdict
In a nutshell, Bubba electric fillet knife has all the features that you need in a fillet knife to do a professional job. It is extremely durable with a rust-resistant blade and user friendly. It is the best electric fillet knife for crappies and other fish. Even if you're a beginner you can effortlessly use the electric knife without any hassle. [2]