Investing in a good coffee thermos can be highly beneficial as it can significantly keep your coffee at an ideal temperature for a longer time. Whether you're at home, traveling, running an errand, or camping, unless you have a coffee thermos by your side you can enjoy hot/cold coffee any time. So, if you're a coffee enthusiast and love traveling you should consider buying the best coffee thermos for camping.
In this article, we have reviewed one of the best coffee thermos Stanley Classic Legendary Vacuum Insulated Bottle. Our team of experts and analysts has tested this coffee thermos alongside the features such as size, design, ability to keep the coffee cold/hot, and overall value. They have even used the thermos during traveling and camping to make sure the thermos is truly built and performs efficiently. [1]
So, keep reading to learn more about this excellent coffee thermos and why we liked it.
Stanley Classic Legendary Vacuum Insulated Bottle Review
With an excellent history of one century, Stanely is one of the oldest and most renowned companies in the world that is known for producing unique all-steel vacuum bottles. Since its origin in 1913, this company has produced various vacuum bottles and thermoses that have been used by our ancestors. This company has extended its lineup with additional food containers and beverage bottles for household as well as outdoor use. Their products are generally known for their all-steel built and effective performance that's hard to find in other brands. This Stanley steel coffee thermos is also not an exception.
Design
The first thing that we liked about the Stanley Classic coffee thermos is its simple yet elegant design. Whether you want to use this thermos at the office, traveling or running errands, it's a perfect partner that you can bring with you without any embarrassment. Available in eight different color options you can choose any color from mate gray to camouflage brown according to your taste and personality. Furthermore, the model is available in two sizes ranging from 1.5 quarts to 2.5 quarts so you can easily pour more than six cups of coffee into your thermos to enjoy while traveling.
Durability
Unlike other glass-lined thermoses, the Stanley coffee thermos is designed to last for years. They have made innovations over the years and made it lightweight and more durable with the implementation of double-wall stainless steel. It is highly rust and corrosive resistant so you can use it on an outside adventure without any worry. Apart from camping and hunting, sportsmen can also use this thermos as Stanely claim their product is unbreakable and offer a 100% backup guarantee regardless of age or abuse.
Performance
So how well can a Stanley Legendary Vacuum Insulated bottle keep your beverage hot or cold? Well for a really long time. The superior installation in Stanley can keep the coffee hot/cold for more than 24 hours. The 2.5 quarts Stanley thermo can even keep the coffee at ideal temperature for up to 48 hours making it the best coffee thermos for hunting and camping. Our team tested the thermos themselves by adding the hot tea to the bottle for up to 24 hours. The tea was too hot to drink even after 12 hours. [2]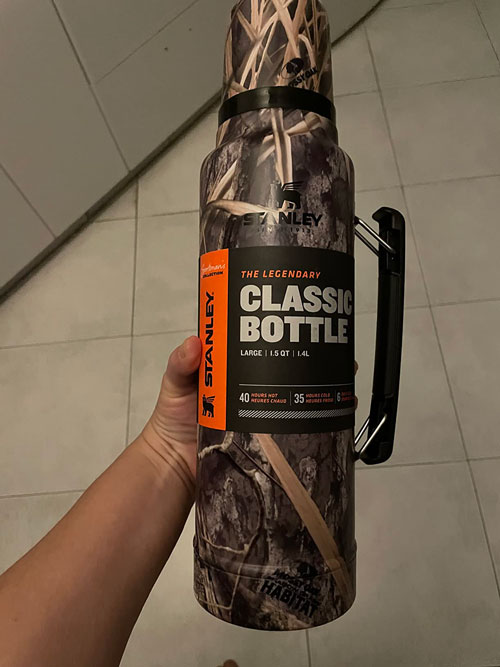 User Friendly
Above all the thermos is highly user-friendly with a simple and convenient design. Thermos comes with a leak-resistant lid that keeps the beverage sealed pack in the bottle and prevents any accidental spilling in your bags. Consequently, you can easily carry it while traveling without any fear. The only drawback that we found was the small lid opening which can make the cleaning challenging however since the product is dishwasher safe this is not a problem anymore.
Looking for the best coffee thermos made in the USA? Checking our guide can help you.
Value for Money
Lastly, Stanely gives lifetime warranty to their customers. Unlike other stainless steel thermoses, Stanley comes at a very reasonable price so, for those who are on a budget and looking for a really durable product this is the best option for them.
Prominent Pros
Leakproof
Extraordinary temperature retention
Build to last for decades
Notable Cons
Final Verdict
Having a good coffee thermos is a must if you want to enjoy your favorite hot/cold coffee while traveling or camping as the coffee tends to get cold/hot easily after a few minutes. Stanley Stainless steel is the best coffee thermos for camping as it can retain the water temperature for up to 48 hours. It is highly user-friendly with long-lasting heavy-duty construction that can withstand the harsh environment and keep you accompanied on your journey.