Are you tired of constantly replacing flimsy lunch boxes that just can't seem to handle your on-the-go lifestyle? Look no further than the Yeti Lunch Box. This lunch box is more than just a place to store your food. It's highly durable and delivers extraordinary performance that will make your lunch break more enjoyable than ever before.
Looking for the best lunch cooler for construction workers? We've reviewed the top 10 lunch boxes for you to select from.
Some Great Features Of Yeti Lunch Bag
Specifications
Brand: Yeti
Material: Polyester
Color: Multicolors
Special Features: Leak Proof, Thermal Insulated, Light Weight, Water Resistant
Design
The Yeti Daytrip lunch box is sleek and stylish, with a classic look that will never go out of style. Whether you want to go on a picnic, camping, hiking, or at work, this lunch box would be an ideal option.
The lunch box is large in size and can hold tons of snacks while insulation is unbeatable so you can efficiently enjoy your lunch. Also, the lunch box is available in a wide range of different colors, which means you can choose any color that suits your preference and style. [1]
Construction
The Yeti hard lunch box is highly durable and reliable with top-notch quality construction. The outer shell is made of heavy-duty polyester materials that can withstand even the roughest treatment. This means this lunch box can withstand wear and tear, making it an ideal option for workers working at construction sites, or camping or hiking lovers. The hinge is also built with sturdy materials that won't break or wear out over time.
To make the lunch box more durable and reliable, the manufacturer has added an extra layer of protection that repels water or oil from entering the box. This as a result protects your food from getting damp at construction sites or from rain.
The insulation inside the lunch box is also made of high-quality closed-cell foam, which is known for its excellent insulating properties and ability to keep food and drinks cold for extended periods of time. So, it not only prevents your food from raining but also keeps it at optimal temperature, so you can still enjoy your food warm and fresh.
Performance
Another thing that we loved about Yeti Lunch Box is its performance. It keeps your food cold for hours on end, even in the hottest temperatures. The insulation is top-notch, and the airtight seal ensures that your food stays fresh all day long. And with its durability, you don't need to worry about its safety. You can pack your lunch in the morning and rest assured that it will still be cold and delicious when you're ready to eat.
The lunch box is spacious enough to hold all your favorite snacks and drinks, so you don't have to worry about running out of space. Plus, the latch is simple and intuitive, so you can open and close the box with ease. The handle is also sturdy and comfortable to hold, making it easy to carry the lunch box wherever you go.
Additionally, the lunch box material is also stain resistant. Unlike, other lunch boxes it doesn't get stained easily, which means it would not look new even after regular use.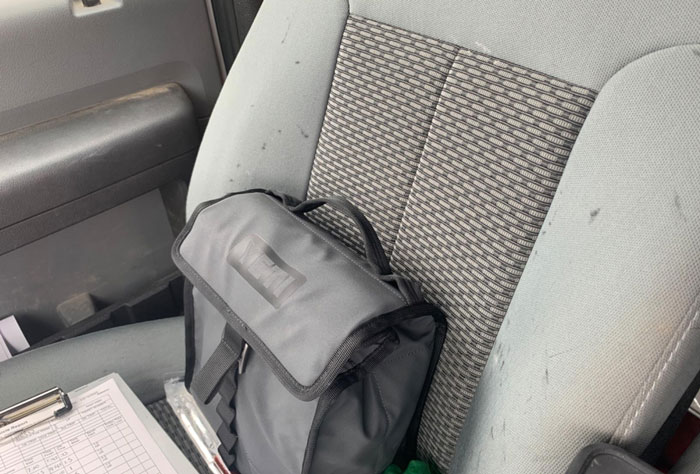 Price
For some people, Yeti Lunch Box is more expensive than your average lunch box, but it's worth every penny. The premium quality construction and extraordinary performance make this lunch box an investment that will last for years to come. If you're someone who is constantly on the go and needs a lunch box that can keep up with your busy lifestyle, the Yeti Lunch Box is the way to go. However, if it is still expensive for you, you can get it at a lower price from the Yeti lunch box clearance sale. Many sites lower the price when they launch Yeti lunch box sales, you can get benefited from there.
Prominent Pros
Durable and reliable
Large Capacity
Easy to clean
Extraordinary insulation
Notable Cons
Expensive
Only one carrying handle
Yeti Lunch Box vs Bag
Are you confused about which Yeti lunch box and bag are better for you? Here is a comparison between the Yeti lunch box and the bag.
The main difference between the Yeti Lunch Box and a lunch bag is their construction. The Yeti Lunch Box is a hard-sided container that is designed to be durable and rugged, making it ideal for outdoor activities or heavy use. It typically has a latch or zipper closure and is lined with closed-cell foam insulation to keep food and drinks cold for extended periods of time.
In contrast, a lunch bag is a soft-sided container made of lightweight materials like fabric and is often more portable and easier to carry around. While it may also have insulation, it is generally not as effective as the insulation in a lunch box. [2]
Final Verdict
In a nutshell, if you're looking for a lunch box that can handle anything and last for a long time, the Yeti Lunch Box is the way to go. With its impressive features, superior performance, and durable construction, this lunch box is a top-of-the-line option that will exceed your expectations.
So go ahead and treat yourself to the best lunch box on the market—you won't regret it! If you're still confused, we would suggest you read the Yeti Daytrip lunch box reviews left by the customers on Yeti lunch box Amazon. It would greatly help you in making the decision.