Choosing an inexpensive oven can be time-stretching and tiresome as cheap microwaves are carbon copies of each other. With so many overlapping features, it felt like you were looking at different versions of the same product under various names. To help you find the best microwave under 100, we have tested some of the cheap microwaves in the market and found that the Toshiba microwave is inexpensive yet powerful, easy to use, and simple to clean. Read this Microwave review to find out why it stands out among all the competitors. 
The Toshiba microwave oven is generally the most affordable microwave that offers features you can only get in high-end and expensive microwaves.
Let's take a look at it!
Features of Microwave Oven By Toshiba
Specifications
Material: Stainless steel
Color: Black
Power: 1100 watts
Special features: Humidity sensor, ECO+Mute
Installation type: Countertop
Ventilation type: Recirculating
Construction and Design
The first thing we loved about the Toshiba microwave oven was its durable and sturdy construction and unique design. Unlike other inexpensive ovens, the Toshiba microwave is made of premium quality stainless steel to ensure the oven is highly durable and last longer. So, if you want to spend money on something that lasts for decades, this is the ideal option.
Apart from the stainless steel body we also loved the sleek design and the door that makes it easier to open the door. The only thing that we don't like is its large size which spanned over the entire width of the countertop. So, if you have got a small kitchen, it may not be the right choice for you. [1]
Performance
Unlike other cheap ovens that don't have many features and lack performance, the Toshiba microwave offers a wide range of features to enhance your experience. It comes with a pre-set temperature setting that allows you to choose your desired temperature. Also, the control panel is bright and easy to use. There are separate buttons for frozen Pizza, Frozen Entrée, Potato, Rice, Veggie, Custom Cook, Soften/Melt, and Popcorn, along with some defrosting options.
It is straightforward to use the temperature control panel. You can either select the temperature by pressing the button that read the customer cook or by pressing the start button multiple times to add the number of seconds you like. In our case, we used the 30-second button and got satisfying results every time.
That's not all, the microwave also comes with another excellent mute feature that allows you to mute the microwave while using it. So, if you're craving midnight snacks and don't want to wake up the house, you can use this feature to heat the food silently.
Power level
The main thing that enhances the performance of your microwave is the power level.[2] The higher the power, the better the performance. High power helps to heat the food more quickly and evenly. That's the reason, many inexpensive microwaves don't perform well, as they have low power levels. But you would be surprised to know Toshiba microwave delivers strong power that heats food faster than other microwaves.
There are two types of Toshiba microwaves: Toshiba microwave 900 watts and Toshiba microwave 1100 watts. We have been using 1100 watts microwave and it provides excellent results.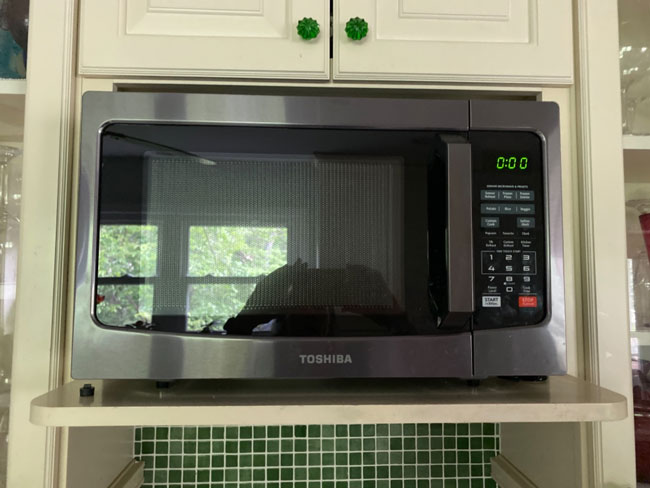 Ease of Cleaning
Cleaning the microwave is also a straightforward and effortless task. Firstly, the stainless steel is smudge resistant so you don't need to worry about fingerprints and food stains. Even if the oil or stains smudge on the exterior they can be cleaned easily. Secondly, the glass turntable is removable and it's dishwasher safe making cleaning further easy.
Is reading the LG lmhm2237 review can help me to know its features with pros & cons.
Value for Money
Toshiba microwave price generally ranges between $120 to $100, making it one of the best budget options for people. If you're buying a microwave just to reheat the leftovers and some snacks this is a perfect choice. It is cheaper than other microwaves and comes with a limited guarantee of 1 year.
Moreover, the Toshiba microwave manual is also very detailed and easy to understand so if you don't know how to use the Toshiba microwave oven, you can learn it from the step-by-step guide in a single afternoon only.
Final Verdict
Among all the microwaves that come under the range of $100, the Toshiba microwave oven is the top performer with sturdy construction, high wattage, advanced features, and provide outstanding performance. Toshiba microwave reviews by customers have also proven that it is one of the best high-quality inexpensive microwaves that is highly reliable, convenient, and user-friendly.