Are you searching for a durable and stylish mug for your daily coffee or tea routine? Look no further than the IKEA Double Wall Glass Mug. This innovative mug features a double wall design that keeps your drinks hot while remaining cool to the touch. But is this mug really worth the investment? In this IKEA double wall glass mug review, we'll take a closer look at the various features and performance of this mug to see if it lives up to the hype.
Want to know which is the best double walled coffee mug?
Made by the renowned Swedish multinational company IKEA, this double-wall glass Double Wall Glass Mug is a sleek and modern take on the classic glass mug design. Since its release, the mug is best known for its minimalist and functional design and high-quality performance that keeps your beverages at the desired temperature for a longer time. That's not all, here is a long list of features that make it a worthy investment for all coffee and tea drinkers. [1]
Ikea Double Walled Mug Features
Design
The Double-Walled Glasses IKEA UK mug has a simple and elegant design, with a clear glass construction that allows you to see the color and texture of your drinks. The double wall design provides insulation that keeps your drinks hot while remaining cool to the touch. It also prevents the hot beverage from getting cold quickly so you can enjoy each sip of your favorite coffee or tea at your own pace. Also, it comes with a carrying capacity of 8 ounces, which is perfect for a standard cup of coffee or tea.
Performance
The double wall construction of the IKEA Double Wall Glass Mug is its standout feature. It keeps your drinks hot for longer without the need for a handle or sleeve, making it a great option for on-the-go use. This means you can easily enjoy your coffee or tea while gossiping without being worried about it getting cold.
The mug is also dishwasher safe, which makes it easy to clean and maintain. Even if you don't own a dishwasher, washing with your hand is effortless and straightforward. Simply rinse the mug with clean water after every use and dry it with a clean cloth.
The IKEA Double Wall Glass Mug is comfortable to hold, thanks to the double wall construction that keeps the outside of the mug cool. However, some users may find the small handles to be a drawback, especially if they have sensitive skin or are prone to spills.
Durability
One concern with glass mugs is their fragility, but the IKEA Glass Mug is surprisingly durable. The double wall construction provides an extra layer of protection against cracking or chipping, so you can use it without any worry. Even if the mug falls from a certain height it will not crack easily. Still, we would suggest using it with care, as it's not made of stainless steel. Also, the mug is made from tempered glass, which is more resistant to heat than regular glass. [2]
Price
The IKEA Double Wall Glass Mug is an affordable option, with a retail price of around $3.99. This makes it a great option for those on a budget who still want a high-quality glass mug that can keep their drinks hot for longer.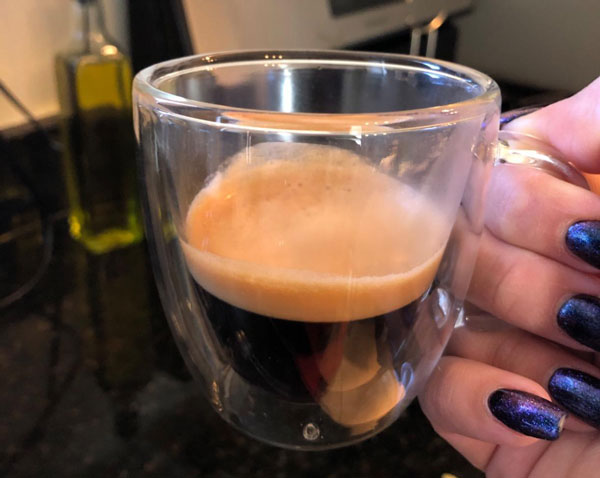 Prominent Pros
High insulation
Simple and elegant design
Durable tempered glass construction
Dishwasher safe
Easy to clean
Affordable
Notable Cons
Final Verdict
In a nutshell, the IKEA Double Wall Glass Mug is a great option for those seeking an affordable and durable glass mug with insulating properties. It has a sleek design and is highly durable, made with tampered glass that not only prevents your drink from getting cold but also keeps the mug safe from wear and tear.
Reading the review for the Bodum double wall glass microwave safe will help you know its features.
Its competitors offer unique features and benefits, such as different materials, customizable designs, and higher levels of insulation, but may come at a higher price point. So, if you're looking for a budget-friendly option, it would be a great option for you.