When it comes to coffee making, coffee percolators occupied a significant space in history. They have undergone many style and design changes but they have always maintained the traditional brewing system without compromising on the taste and flavor of the coffee. However, finding the best coffee percolator can be challenging sometimes. That's why we decided to write Elite Gourmet ec812 Electric Coffee Percolator Review. 
We tested and examined various coffee percolators in the market and found that the elite gourmet percolator stands out among all for its excellent performance and durable build. After testing we have also read elite gourmet percolator reviews and found that about 90% of customers are satisfied with it. [1]
Why choose the elite gourmet ec812 electric coffee percolator manual?
Elite Gourmet has an excellent history of manufacturing top-quality kitchen appliances and has a positive reputation among consumers. They have been producing various kitchen equipment from toasters to food processors, buffet servers, bread makers, coffee makers, citrus juicers, deep fryers, and much more. Their products have hardly got any complaints from the consumers that's why they have been becoming popular day by day. This Elite gourmet ec812 coffee percolator is also not an exception. Here is why:
Excellent Material
Elite Gourmet ec812 coffee is made of pure stainless steel material. From the outside cover to the inside cover and coffee filter, every part is made of excellent quality stainless steel that is both rust and corrosion-resistant.
Ergonomic Design
Apart from the sturdy stainless steel build the percolator has a unique and ergonomic design to ensure the safety of the consumer. It is spacious in size and you can easily make up to 12 cups of delicious coffee in one go. So, if you have a large family it's an ideal choice for you to make multiple cups of coffee for your whole family.
Furthermore, it also comes with a ready-to-serve indicator light that provides an instant alert when your coffee is ready to serve.
Ergonomic Base
Although the whole percolator is made of stainless steel material, the base is built with plastic material. This ensures your safety by preventing the percolator from falling from the cabinet.
Stay Cool Handle
Unlike other percolators that come with cast iron or stainless steel handles, elite gourmet has an ergonomic plastic handle. It stays cool even after hours of brewing and provides a strong comfortable grip for smooth pouring. Also, the spout is upright which prevents the coffee from spilling, and pour it straight into your cup.
Transparent Knob
Another thing that we like about this percolator is the transparent knob. It has a medium size glass knob on the lid that allows you to peep into the percolator. So, now you don't need to remove the lid to check the progress, you can directly observe it through the knob.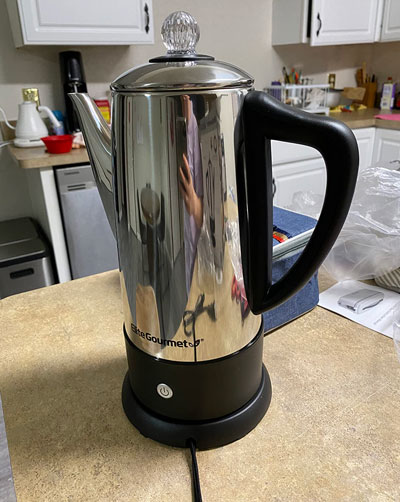 Wrap-around Cord
If you're looking for a portable percolator then it would be the ideal choice for you. Although the cord is not detachable, they resolved the issue by installing a cord wrapper at the bottom of the base. This means you can wrap the cord easily beneath the base and move it around the house without any hassle.
Looking to buy the best electric percolator? Checking our guide will help you find one.
Dishwasher Safe
One task that people mostly find difficult is cleaning the percolator. But that's not the case with elite gourmet percolators. Firstly, it comes with a removable coffee filter, and secondly, it is dishwasher safe. So, even if you want to hand wash it's pretty effortless and straightforward to clean it. However, if you're not comfortable with hand washing you can just throw it into the dishwasher. [2]
Prominent Pros
Durable, portable, and highly user friendly
Transparent knob
Ergonomic design
Dishwasher safe
Notable Cons
Don't keep warm for long hours
Final Verdict
Percolator has been famous for centuries and many people have been using them to extract the perfect cup of coffee without sparing much effort. Elite Gourmet ec812 Electric percolator is an ideal option for coffee enthusiasts. It is highly durable than other percolators and comes at a reasonable price. It comes with a spacious capacity to brew coffee for your whole family in one go.
Above all, it is highly user-friendly, convenient, and portable. Although it is pretty easy to use, we suggest you follow the elite gourmet ec812 electric coffee percolator instructions written in the manual before using it for the first time.
Happy brewing!