Are you tired of constantly refilling your water pitcher or lugging around heavy water bottles? Do you crave the convenience of a cold, refreshing drink at the touch of a button? Look no further than the Brio bottom-loading water dispenser! With its sleek design, easy-to-use features, and superior functionality, this dispenser is a game-changer for anyone seeking hydration bliss.
Which company water dispenser is the best? Check our detailed reviews about the top water dispensers.
But don't take our word for it – let's dive into this Brio bottom-loading water dispenser review to see what makes it stand out from the rest.
Some Great Features of Brio Water Dispenser
Design: Sleek and stylish
The first thing that we loved about the Brio dispenser is its sleek, modern design that catches the eye at first glance. Its black and stainless steel exterior gives it a sophisticated and stylish appearance, which is sure to complement any home, office, or kitchen decor. And also the Brio's bottom-loading feature a bottom-loading design which means you don't need to lift and maneuver a heavy bottle over the dispenser's top to fill the jug. Simply, place the water bottle at the bottom and enjoy fresh water at the desired temperature all around the year. [1]
Construction: Durable with heavy-duty material
Bri Dispenser is not only beautiful but also features solid construction and is built to last. The dispenser is made with premium quality stainless steel that ensures your dispensable last for decades. Also, the stainless steel is rust and corrosion-resistant. So, if you're looking for a dispenser that can last for generations, this is the ideal option.
Performance: Conveinet and relibale
The Brio bottom loading water cooler water dispenser – essential series is effortless and straightforward to use. The dispenser features a powerful compressor that ensures the water is dispensed quickly and efficiently, so you won't have to wait around for your cup to fill up. And, unlike some dispensers that dispense water at room temperature, the Brio has a cold water temperature range of 41-50°F, ensuring that you can enjoy a refreshing, chilled glass of water whenever you want.
Additionally, the Brio also has a hot water temperature range of 170-200°F, perfect for making tea, hot cocoa, or instant oatmeal. And with a fast heating time of just a few minutes, you won't have to wait long to enjoy your hot beverage.
So, whether you want to get hot water in winter or cold water in summer this dispenser can cater to all your drinking needs.
Checking the detailed review about the Avalon water dispenser can help you know its features.
The dispenser also comes with a child safety lock on the hot water spout, which is a crucial feature for families with young children. The Brio's thoughtful design elements ensure both convenience and safety for users. With the self-cleaning water dispenser bottom load, you don't need to worry about cleaning the dispenser.
Other Features
The Brio bottom-loading water dispenser has an impressive array of features that make it stand out from the competition. For starters, the dispenser has a large water capacity, with the ability to hold up to 3 or 5-gallon jugs. This means you won't have to refill your jar as often, saving you time and effort.
The Brio also has an easy-to-use control panel with buttons for hot, cold, and room temperature water, as well as an indicator light that lets you know when the dispenser is heating or cooling the water.
That's not all, the dispenser also features a light that makes the water spout visible at night so you can pour water straight into your cup instead of spilling around. With the water indicator, you can know ahead of time when the water needs to be replaced.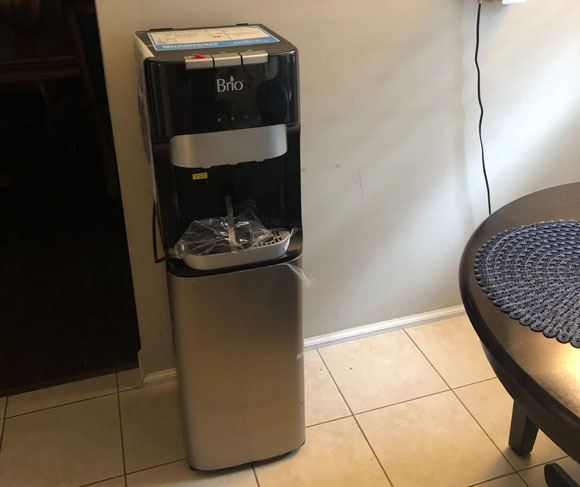 And for those who are environmentally conscious, the Brio dispenser also has an energy-saving mode that automatically turns off the heating and cooling functions when the dispenser is not in use. This not only saves energy but also saves you money on your electricity bill. With Brio bottom load water dispenser troubleshooting guide, you don't need to spend money on a technician for small trivial issues. [2]
Price: Best value for money
You might be thinking that with all these impressive features, the Brio bottom-loading water dispenser must come with a hefty price tag. But surprisingly the Brio is quite affordable compared to other water dispensers on the market. And with its solid construction and energy-saving features, the Brio is an excellent investment that will pay off in the long run.
Final Verdict
In conclusion, the Brio bottom-loading water dispenser is an excellent choice for anyone looking for a stylish, efficient, and convenient dispenser that can cater the drinking needs all around the year. With its modern design, solid construction, powerful performance, and impressive features, the Brio is sure to impress even the most discerning customers. And with its affordable price point, there's really no reason not to invest in this top-of-the-line water dispenser.
So go ahead and make the switch to the Brio—you won't regret it! If you've already bought this amazing dispenser make sure to leave a line in the comment section we would love to read the Brio water dispenser reviews from you guys.