Are you tired of sipping on mediocre coffee that tastes like it's been brewed since the last lunar eclipse and now looking for a way to elevate your at-home brewing experience? Look no further than the Bodum French Press Coffee Maker, the ultimate tool for elevating your caffeine game. In this Bodum French Press review, we'll dive deep into the features, design, and performance of the Bodum French Press, and explore why it's become a beloved staple in kitchens around the world.
How to find the best french press coffee? Checking our buying guide can help you.
With a marvelous history of more than a century, this simple yet sophisticated coffee maker has been the favorite choice for coffee enthusiasts for unlocking the full potential of their favorite beans. With its sleek design and impressive brewing capabilities, this coffee maker is guaranteed to make your taste buds sing and your mornings brighter. So ditch the old drip machine and join the French press revolution – your taste buds will thank you. [1]
Features of French Press by Bodum
Specification
Brand: Bodum
Capacity: 0.35 Liters
Material: Borosilicate Glass, BPA free Plastic, Stainless steel
Color: Chrome
Special features: Removable Tank, Water Filter, Jug
Design: Elegant and Stylish
The Bodum French Press is a beautifully designed coffee maker that boasts a modern and sleek aesthetic. The coffee maker has a stainless steel frame with a D-shape handle and a doomed-shaped lid with a round plunger, which gives it an esthetic and sophisticated look. Also, the coffee maker is compact in size thus taking up small space in your cabinet. So, if you've got a small kitchen it is the ideal option.
Quality Construction
It's made from high-quality materials including borosilicate glass and stainless steel, which not only give it an exquisite look but also ensure durability and longevity. The carafe is made of Borosilicate glass which makes it easy to look inside the maker so you can easily see the color of the brew. The glass is both heat-resistant and dishwasher-safe, making it easy to clean and maintain.
Additionally, the handle is also large with a D shape that makes it easy for you to firmly hold the french press and prevent it from slipping. The handle is made with BPA-free plastic.
Another standout design feature of the Bodum French Press is its plunger system. The plunger is made from stainless steel and has a silicone ring around the edge to ensure a tight fit. This in result creates a perfect seal that keeps the coffee grounds separate from the liquid, resulting in a smooth and consistent cup of coffee every time.
Brewing Performance
The Bodum French Press uses a simple yet effective brewing method that results in a bold and rich cup of coffee. Unlike traditional drip coffee makers, this French Press allows the coffee to steep directly in the water, which creates a full-bodied flavor profile. It allows you to adjust the brewing time and water temperature as a result you to experiment with different brewing methods and find the one that works best for you. So, if you want a more customized brewing experience, Bodum French Press is ideal for you.
Additionally, the Bodum French Press uses a mesh filter instead of a paper filter, which allows more oils and flavors to pass through and into the final cup.
The top features of the best Starbucks coffee beans you can check in our guide.
Besides, it is very easy to use. The process is straightforward and can be completed in just a few minutes. Simply add the coffee grounds and hot water to French Press, allow it to steep for a few minutes, and then press the plunger down to separate the grounds from the liquid.
In a couple of minutes, you will get a perfectly brewed full-bodied cup of joe, making it a great choice for busy mornings or when entertaining guests. Even if you don't know how to use it, you can seek assistance from the Bodum french press instructions pdf guide. [2]
Cleaning and Maintenance
The Bodum French Press is also easy to clean and maintain. The glass carafe and stainless steel plunger can be easily disassembled and washed in the dishwasher or by hand. The mesh filter can also be removed and washed separately, ensuring that your coffee maker stays clean and hygienic.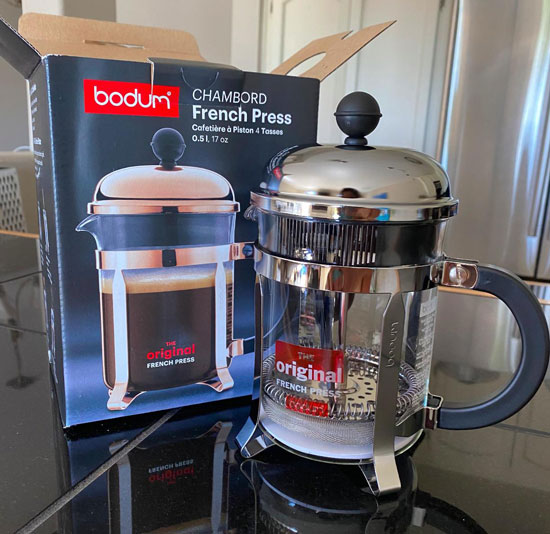 When we first got it, we got confused about the assembly of Bodum french press parts. However, with the help of the Bodum french press manual and Bodum french press assembly instructions, it becomes a piece of cake for us. [3]
Capacity
The only downside that we found in the Bodum French Press is its capacity. The largest size available is 34 ounces, which may not be enough for larger households or those who entertain frequently. However, this size is perfect for a small group of coffee lovers or for those who prefer to brew smaller batches.
Final Verdict
In a nutshell, the Bodum French Press Coffee Maker is an ideal option for coffee enthusiasts who want to experiment with rich flavor profiles and enhance their brewing experience. It has a sleek design and durable construction that make it elegant and durable simultaneously.
If you're in the market for a high-quality French Press, the Bodum French Press Coffee Maker is definitely worth considering. So buy this amazing French press, settle in, and prepare to take your taste buds on a journey they won't soon forget.