A high-quality end grain cutting board is an essential tool in any kitchen, providing a durable and sturdy surface for all your chopping, slicing, and dicing needs. However, with so many different types of wood available, choosing the best wood for end-grain cutting boards can take time and effort. From the classic maple to the exotic teak, each type of wood has unique properties that can affect the performance and longevity of your cutting board. [1]
So, what type of wood is the best wood for cutting board? Let's dive into the world of wood and explore the top contenders for the ultimate chopping surface.
4 Different Types of Woods for Chopping Surface
1. Maple wood
Maple wood is widely regarded as one of the best choices for end grain cutting boards, and for a good reason. First and foremost, maple is a tough and durable hardwood that can withstand the wear and tear of daily use in the kitchen. Whether you want to dice the vegetables or chop meat, you can effortlessly do every task without leaving scratches or marks on the board.
Also, maple is non-porous and has a uniform grain structure, which means it does not absorb water or bacteria as quickly, unlike other types of wood. This makes it an ideal choice for food preparation, as it is less likely to harbor harmful bacteria that can cause foodborne illness.
Finally, maple has a neutral color and a subtle grain pattern that allows the natural beauty of the wood to shine through without distracting from the food being prepared. So, if you want your end-cutting board to be functional and beautiful simultaneously, a maple end-grain cutting board would be an ideal choice. However, Maple wood tends to stain easily due to its light color and needs frequent conditioning.
2. Walnut Wood
Walnut is another popular wood choice for end-grain cutting boards, and it has many unique features that make it an excellent option for this purpose. Like maple, walnut is also a hard and durable hardwood that can withstand the wear and tear of daily use in the kitchen. However, it also has a beautiful, rich color and a striking grain pattern that can add warmth and character to any kitchen.
Additionally, walnut has natural antimicrobial properties that can help to reduce bacterial growth on the surface. Plus, it doesn't require regular maintenance to keep the cutting board in good shape. With little care, walnut end grain cutting board can last for many years, making it a worthwhile investment for any home chef.
So, if you're tired of maintaining your cutting board to protect it from bacterial or fungal build-up and daily scratches, a walnut wood cutting board might be an ideal replacement for you. Overall, Walnut is an excellent option with heavy bacterial protection and durability, but it is not ideal for heavy hand users.
3. Black Walnut
Black walnut is often considered the ideal choice for a high-end cutting board due to its combination of beauty, durability, and performance. Compared to walnut, black walnut has a higher level of antioxidants and other health-promoting compounds that are useful for reducing the risk of various diseases.
One of the main benefits of black walnut is its rich, deep brown color and striking grain pattern, which can add an elegant touch to any kitchen. The dark color also prevents the cutting board from getting food stains and keeps it clean.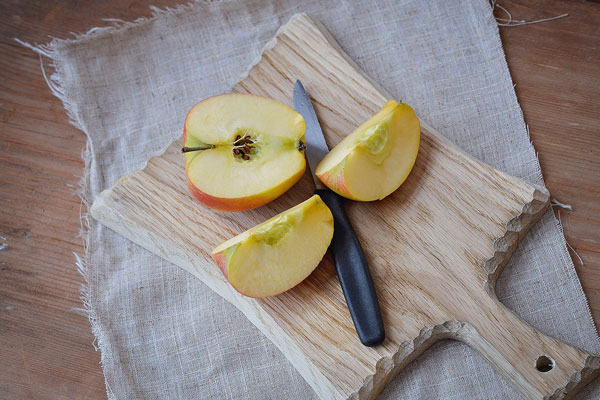 With its natural antimicrobial properties, tight uniform grain structure, and natural oil and resins, it's almost impossible for bacteria or fungi to grow on the cutting board and contaminate the food. What's more, like walnut, black walnut end grain cutting board also doesn't require high maintenance, making it an ideal investment for chefs who want durability, convenience, and elegance in one package.
4. Cherry Wood
While many people think walnut is the ideal choice for an end grain cutting board, Cherry would be an ideal addition to the list. Unlike other wood options in the list, it is not hard wood with a Janka hardness rating of 950 but it is not too soft.[2] It also has an elegant reddish color that can give a lively look to your kitchen and require little maintenance and conditioning.
How to find a good oil for the cutting board?
Another advantage of cherry wood cutting boards is, they are soft and thus go easy on your knives and they are unlikely to get dull on cherry end grain cutting boards. However, it's very easy for knives to leave dents and knife groves on the surface and may end up building bacteria or fungi. Also, it can get stained easily and is not as durable as maple and walnut cutting boards. But cherry wood cutting boards are highly affordable than the others.
Final Verdict
In conclusion, Black walnut is the ideal choice for an end-grain cutting board. It is highly durable with the highest Janka hardness strain, is non-porous, and has high antioxidant properties that prevent your cutting board from fungi and bacterial growth.
However, the only drawback of black Walnut is, it's expensive, but its excellent performance makes it worth the price.