A whistling tea kettle is a classic and practical addition to any kitchen, and finding the best whistling tea kettle for a gas stove can be a game-changer in your tea and coffee brewing routine. The sound of a whistling tea kettle is not only charming but also serves as an indicator that the water is boiling and ready to use.
Do you know which is the best tea kettle for gas stove? We've reviewed top kettles with a detailed overview so you can buy the best one for your needs.
Picture this: you're about to start your day, and all you need is a warm cup of tea or coffee to kickstart your morning routine. As you're waiting for your old kettle to boil, you can't help but wonder if it can notify you when the tea is ready, and in the meantime, you can do other chores.. But what if there was a kettle that could immediately alert you when the tea is ready so you don't have to sit and wait aimlessly?
Look no further than the Le Creuset Classic Whistling Kettle.
With its enamel-coated steel construction, durable design, and delightful whistle, this kettle is a cut above the rest. So why settle for a mundane kettle when you can elevate your daily routine with the Le Creuset Classic Stainless Steel Whistling Tea Kettle?[1]
Le Creuset Classic Whistling Kettle Review
The Le Creuset Classic Whistling Kettle is a perfect combination of functionality and style. This kettle is made of high-quality materials and comes in a variety of vibrant colors that can brighten up any kitchen. Here are some of the features that make this kettle a must-have for any tea lover:
Design
Although the Le Creuset Classic whistling kettle has a wide range of extraordinary features, we would start with its unique and exquisite design. The kettle has a classic yet functional design that makes the brewing as well as pouring process extremely easy and effortless. The kettle has a large capacity of 1.7 liters, Which means you can boil enough water for up to seven cups of tea. It's perfect for entertaining guests or making a pot of tea for yourself.
Moreover, the kettle's handle is also designed to be ergonomic, making it comfortable to hold and pour. The handle also stays cool to the touch, so you won't burn your hand while pouring hot water. It's not only the handle, the knob, and whistle are also heat resistant and don't get hot at all. This means you can easily touch the knob and remove the whistle while pouring the tea.
Another thing that we loved about that kettle is the handle's portability. Although it is tight together with stainless steel brackets for precise and smooth pouring, it can be pushed to a horizontal position.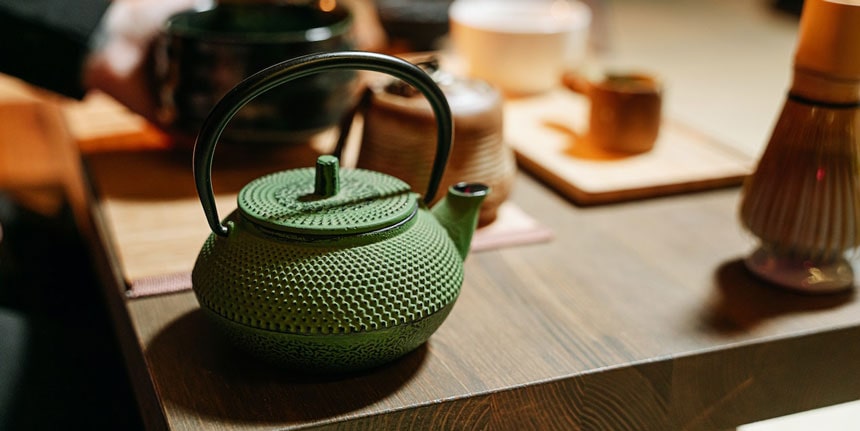 Durability
While stainless steel is considered the most suitable and durable material for the kettle. To your surprise, the Le Creuset Classic Whistling Kettle is made of high-quality enamel-coated steel, which makes it extremely durable and long-lasting. Unlike other whistling glass tea kettles, it is designed to withstand high temperatures and is resistant to chipping and cracking.
Every part from the kettle body to the lid and sturdy handle is made of enamel-coated stainless steel, making it the ideal choice for those who want to invest in a kettle that can last for decades. That's not all, the kettle is also available in a number of different vibrant colors so you can choose anyone depending on your taste and choice.
Whistling spout
The whistle on this kettle alerts you when your water is boiling, which is not only practical but adds a charming touch to your tea-making experience. The sound is loud enough to hear from another room, so you can multitask while waiting for your water to boil.
Compatibility & Cleaning
Unlike other kettles The Le Creuset Classic Whistling Kettle is not limited to certain cooktops hence you can use it on all stovetops, including induction, gas, electric, ceramic, and radiant rings, making it a versatile addition to your kitchen.
How to clean stainless steel tea kettle?
Although it is not compatible with dishwashers, the enamel-coated steel is easy to clean and resists stains and odors. The kettle's wide opening makes it easy to fill and clean, and the spout is removable for deep cleaning. Also, there is no need to use abrasive cleaners or dishwashers, washing the kettle with clean water after every use would suffice and prevent any build-up in the kettle. However, it is important to clean the kettle with a dry cloth to avoid rusting or corrosion.
Price
Retailing at a price of $100, it may be an expensive investment for many budget pickers but considering the premium quality, extraordinary performance, ease of usage, and versatility it is worth the price. So, if you don't want to spend your money on something that will need replacement after a few months or years of usage, it would be an ideal long-term investment. Although, the kettles also come with a limited five years of guarantee, making it an attractive choice for you. Above all, the kettle is highly friendly, so you don't need to worry even if you don't know how to use a whistling tea kettle.[2]
Final Verdict
Overall, the Le Creuset Classic is the best-rated whistling tea kettle made of high-quality material and can be a stylish addition to any kitchen. It's durable, practical, and easy to use, and the whistle adds a touch of nostalgia to your tea-making experience. Whether you're a tea lover or not, this kettle is sure to impress.