Sharpening stones have become tremendously popular in recent decades due to their versatility. They can't only sharpen regular kitchen knives but also hunting, whittling, pocket, and EDC knives as well as other tools. Professionals can sharpen knives with any sharpening stone but when it comes to choosing the best sharpening stone for beginners, many people find it challenging as they get overwhelmed by the number of options available in the market. 
This is because there are a number of factors that need to be considered when choosing a sharpening for inexperienced people. Every sharpener has different needs that can't be fulfilled by one single sharpening stone. Thus, there is a dire need to understand individual needs while choosing a sharpening stone for beginners. 
With that in mind, we have compiled a guide to explain the basic needs of beginner sharpeners and what sharpening stone is best for them.
Things to Consider
Type of Stone
Since beginners don't have experience with sharpening stones, they find it difficult to handle and maintain the stones. That's why we strongly recommend diamond sharpening stones for beginners. Because they are highly durable, require little maintenance, and are extremely fast. They can sharpen all kinds of knives from stainless steel to high carbon and ceramic knives.
On the other hand, oil and Waterstone require a lot of maintenance to sharpen the knives which can easily bewilder a beginner. For example, oil stones need to be lubricated with oil and water stones with water before sharpening which can be both time and effort-consuming.  [1]
Type of grit
After choosing the right stone, the next thing that needs attention is the type of grit. Generally, there are four types of grit but beginners need to start with coarse and fine grit. Sharpening is not about making the knife razor sharp but getting a good edge shape and then refining it. 
Coarse stone is the best way to attain a perfect edge shape. Because fine stone works slowly and takes a lot of time to shape the edge. In contrast, coarse stone works faster and sharpens the knife more quickly than fine stone. However, the edge shaped by the coarse stone needs to be further refined by the fine stone. Thus, try to choose a stone that has coarse and fine grit. [2]
Versatility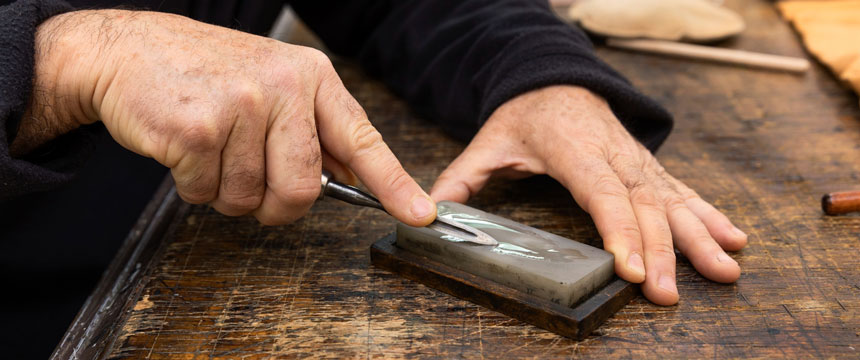 You will have to choose a stone that is not only durable but also versatile. Because every kitchen has a variety of knives and tools, you will not want a stone that can work better on one kind of knife and not another. So, choose a stone that can remain useful even when you change your knives or tools.
Length of the stone
Many people think that the only thing that matters is the quality and material of the stone but not the length of the stone. But they are wrong. The length of the stone is as important as the other factors. It's the length of the sharpening stone that determines what type and size of blade you can sharpen on that stone.
How to find the best sharpening stones for woodworking?
For example, a 6" stone is considered a small stone and can only be used to sharpen small knives. While an 8" stone or larger than 8" stones are considered a large stone and you can effortlessly sharpen the largest knives on these stones. Thus, it will be a waste of your money if you buy a small stone to sharpen the large knives. Because not only will it be time-consuming but you will also not be able to achieve the perfect edge shape. On the other hand, with larger stones, you will sharpen the knife more quickly and accurately. 
User Friendly
You will not want to spend your money on something that is difficult to handle and use. Stones that require loads of maintenance such as soaking in water or oil, flattening, and cleaning can be frustrating and may disappoint the user. So, always carefully choose a stone if you don't want to spend your time on maintenance and cleaning. 
Final Verdict
Getting started with sharpening stones can be challenging as there are a lot of things that you need to learn from choosing the right stone to attaining the perfect edge shape. But a good sharpening stone can make the work a lot easier for beginners and help them to enhance their sharpening experience.
Above we have provided a complete guide on choosing the best sharpening stone for beginners. So, take your time to carefully read the information and make the right choice for yourself.