Do you love to have a spectacular fluffy omelette with proper fixins every morning, then a frying pan might not be the ideal choice to do the job. Although, a frying pan can do many tricks when it comes to making a savory omelette, owning the best omelette pan for induction can make a great difference.  
Omelette pans are handier in nature, provide even heating, and have sloped sides that help to guide the egg when moved in the pan and make flipping and swirling more effortless and convenient. Most importantly, they have long handles that remain cool regardless of the heating period. This makes it easy to grab the pan and swirl the egg in it and also prevents your hands from burning or scorching. [1]
Sounds tempting? Then how about buying an omelette pan for your kitchen?
In this article, I've reviewed one of the best omelette pans for induction stoves that will surely help you on your quest to achieve the perfect omelette without sparing much effort.
All-Clad Nonstick 9-inch Egg Perfect Fry Pan Skillet
When it comes to kitchen cookware no one can top the All-Clad cookware for its premium quality and extraordinary performance. All-Clad is one of the leading cookware brands in America that is best known for its heavy-duty pans and pots that have been acknowledged by home chefs for decades. This D3 Stainless 3-ply Bonded, Nonstick Egg Perfect Pan is also not an exception.
Whether you're a beginner or a seasoned chef this pan is ideal for everyone. I've been using this amazing pan for years now and here is why it's the best egg frying pan for an induction hob.
Sturdy Construction
If you're looking for a pan that not only makes a perfect omelette but also lasts for decades then you would be pleased to know that the All-Clad egg perfect pan is designed only for this purpose. The pan is made of premium quality three bonded layers of stainless steel with aluminum to make it highly durable and sturdy.
Even Heat Distribution
The pan provides quick and even heat distribution to cater to all your cooking needs. It heats up faster than other pans, which means you don't have to wait for the pan to heat up while making omelette. Also, the even heat distribution ensures that your omelette doesn't get overly cooked from the center than from the sides.
Non-Stick coating
Another big advantage of this pan is that it is coated with a non-stick coating that prevents the food from sticking to the pan. This means you don't need to put a lot of oil in the pan in order to prevent the eggs from sticking to the pan. Instead, you can make omelettes without using oil or very little oil.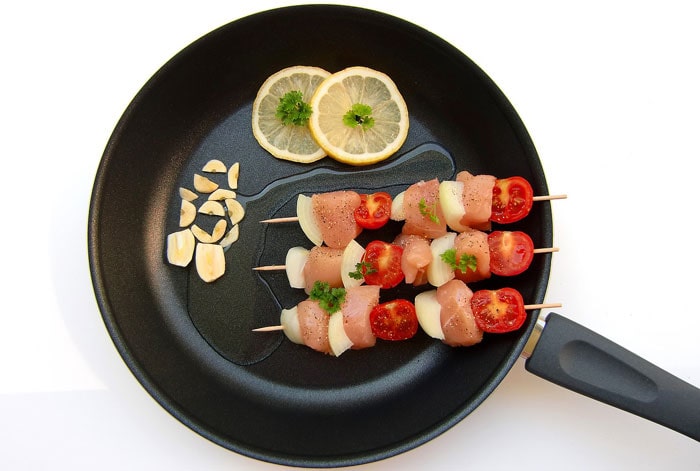 Versatile and Convenient
Apart from the high quality the pan is highly versatile and user-friendly. It is compatible with all cooktops including induction, gas as well as electric. What's more surprising is that it is also compatible with the oven and boiler. You can put it in the broiler or oven up to 600 degrees. This means you don't have to worry about changing your cooktop just for the omelet pan. No matter what kind of cooktop you have, it will go with anyone.
Reading our review for the cook's illustrated best egg pan will give a brief overview of it.
All-Clad non-stick is also dishwasher safe. So, if you're worried that washing might be difficult for you, you can simply put it in the dishwasher. Even if you have to hand wash it would not be tough as the surface is non-stick. [2]
Final Verdict
As the name suggests, this pan is perfect for making eggs. It is not only durable with triple-ply stainless steel construction but also highly versatile and convenient to use. It is compatible with all cooktops, ovens, boilers, and even dishwashers. So, if you're looking for a long-lasting omelette pan to enhance your cooking experience then this is the right choice for you.