Undoubtedly propane gas grills are an excellent choice for grilling food without causing any mess. However, it is really frustrating when the propane gas runs out during the cooking process and you have an important guest at your home. In this situation switching to a natural gas grill is the ideal option. Natural gas grills are not only highly convenient to use but they also save you money on running costs. However, finding the best natural gas grill is challenging as there is huge competition in the market. [1]
What are the best gas grill brands? Checking our buying guide will answer the question.
So, what is the best natural gas grill to buy?
Well, there are so many options in the market from cheapest to luxury. Although it's quite challenging to choose among various options out there, with little research and effort you can find the one that exactly matches your needs and budget. To help you save your time and effort we tested and reviewed some of the best freestanding natural gas grills in the market and found that Weber natural gas grill stands out for its performance, quality build, and affordable price.
In this guide, we will provide a complete breakdown of the Weber Genesis II E-335 3-Burner Gas Grill and how it stands among all the competitors in the market.
So let's get started!
Weber Genesis II E-335 3-Burner Gas Grill Review
Specifications
Weber Crafted Compatible Grates and Frame Kit
3 Main Burners + 1 Side Burner
Extra Large Gear Station
Extra Large Side Table
Grill Locker Storage
Fuel Gauge (Liquid Propane Grills Only)
513 square inches of Cooking Space
BTUs: 39,000
We are aware that Weber Grills is one of the leading brands in the grilling world that is known for manufacturing excellent quality grills with unique designs and outstanding performance. Whether it's a charcoal grill, propane, or natural gas grill they have never disappointed the customers with their performance and other qualities. Weber Genesis Natural Gas grill is also not an exception.
Let's take a look at its unique features.
Large Cooking Area
This amazing natural gas grill comes with the largest possible cooking area that allows you to cook a large amount of meat for your family and friends in one go. So, if you want to grill meat, veggies, fish, and shrimp for a large number of people you can cook it with this grill.
Crafted Frames and Grates
Apart from a large cooking area the grill also has crafted farmers and grates that provide extra space so that all the guests can enjoy the delicious grilled meat at the same time. With the help of these crafted grates you can sear, roast, fry, bake or even stir-fry your favorite meat and veggies without any hassle. So, just replace the grates and serve your family members what they want to eat.
Expandable Top Cooking Grates
Furthermore, it also has a side burner and expandable top cooking grates that provide extra large space to cook the food. You can also keep your food warm on these grates and serve your guests later.
Large Storage Locker
Another thing that we love about this grill is the large storage cabins. The grill locker is pretty large and you can easily place all of your grilling tools inside the cabin. So, if you're going to grill outside you don't need to carry an extra box for grilling tools and other equipment.
Easy to Clean
This grill is also pretty easy and effortless to clean. Unlike other grills, it has removable grease trays. So when you want to clean the grill after cooking, you can simply remove the grease tray and clean it out without any hassle. [2]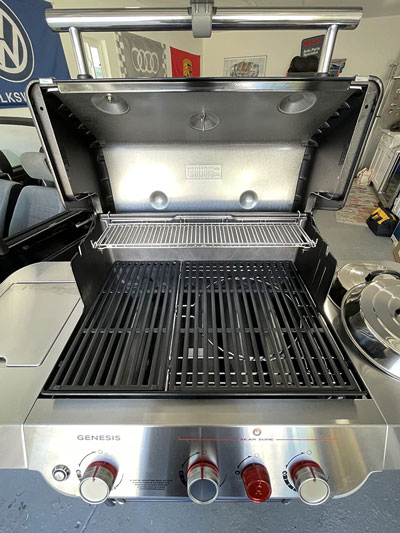 Premium Quality Build
Apart from all the features and excellent performance, the Weber grill is made of premium quality that is rust-resistant and corrosion-resistant, making it highly durable and long-lasting. If used with care it can last for decades.
Are you wondering where you'll find the Weber grills parts? Checking this guide can help you.
Prominent Pros
Highly durable and user friendly
Large cooking area
Ease of cleanliness
Large storage space
Stainless steel material
Porcelain-enameled grilling grates
Notable Cons
Assembly can be difficult and time-consuming
Final Verdict
Now that you know what features Weber Genesis possesses and why we choose it as one of the best natural gas grills for our review. So, dispel all the confusion and buy the Weber Genesis Natural Gas Grill to grill savory and hearty delicious food for your whole family. However, if you think about its expenses we would suggest that Dyna-Glo DGP483SSN-D Premier is the best natural gas grill under $1000.