When it comes to prepping vegetables, nothing beats a Nakiri knife. Nakiri knives have been a staple in Japanese kitchens for centuries and for good reason. Their flat, rectangular blade and razor-sharp edge make them ideal for slicing, dicing, and chopping all types of vegetables with ease. With a Nakiri knife in your arsenal, you can take your vegetable prep to the next level and create dishes that are not only delicious but also visually stunning. In this review, we'll introduce you to the best Nakiri knife under $100, the TUO Nakiri Knife, and show you how adding this versatile tool to your kitchen can elevate your cooking game.
TUO Nakiri Knife Review
TUO Cutlery is a company that has been producing high-quality knives for over 20 years, with a focus on providing professional-grade performance at an affordable price. The TUO Nakiri Knife is a perfect example of this commitment to excellence, offering superior cutting ability and precision while remaining budget-friendly. With its sharp blade, comfortable handle, and versatile design, the TUO Nakiri Knife is the perfect addition to any home cook's kitchen. Whether you're a culinary student or a seasoned pro, this knife is sure to improve your cooking experience and elevate your culinary creations to the next level. [1]
Here is complete breakdown of various feature of TUO Nakrir Knife:
Unboxing the TUO Nakiri Knife: First Impressions
Upon unboxing the TUO Nakiri Knife, we were impressed with its sleek and modern appearance. The blade's distinctive Damascus pattern immediately catches the eye, and the knife's overall weight and balance feel perfect in the hand. The knife comes with a protective sheath, making it easy to store safely in a kitchen drawer.
The Blade: Sharp, Precise, and Durable
The TUO Nakiri Knife's blade is made from high-quality German stainless steel, known for its durability and resistance to corrosion. The blade is hand-sharpened to an impressive 18-degree angle, ensuring razor-sharp precision for all your vegetable prep needs. From delicate herbs to sturdy root vegetables, this knife makes quick work of any cutting task.
The Handle: Comfortable and Ergonomic for Long Sessions
The handle of the TUO Nakiri Knife is made from Pakkawood, a durable material that looks and feels like natural wood. The handle's ergonomic design is both comfortable and secure in the hand, providing a firm grip even during long cutting sessions. The handle's smooth texture also prevents slipping, ensuring your safety while using the knife.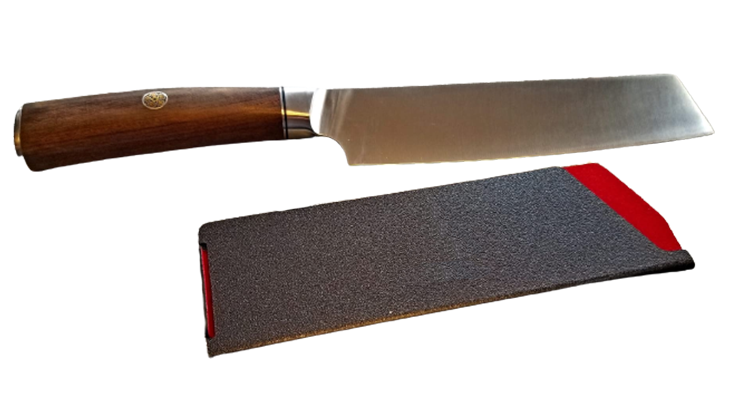 Versatility in the Kitchen: Slicing, Dicing, and Chopping
The TUO Nakiri Knife's flat blade and sharp edge make it a versatile tool for all your vegetable prep needs. Whether you're slicing tomatoes for a salad, dicing onions for a soup, or chopping carrots for a stir-fry, this knife makes it easy to achieve precise cuts with minimal effort. The knife's design also allows for quick and efficient scooping of chopped vegetables from the cutting board.
Aesthetics: Beauty Meets Functionality
In addition to its impressive performance, the TUO Nakiri Knife is also a thing of beauty. The blade's Damascus pattern adds a touch of elegance to any kitchen, while the Pakkawood handle's natural wood grain complements the blade's design. This knife is sure to impress guests and elevate the aesthetic of your kitchen.
Easy Maintenance: Keeping Your TUO Nakiri Knife in Top Shape
Keeping the TUO Nakiri Knife in top shape is easy thanks to its durable construction and simple maintenance requirements. The blade is resistant to rust and stains, and the handle is easy to clean with just soap and water. The knife is also dishwasher safe, although hand-washing is recommended to prolong its lifespan.
Value for Money: The Best Budget-Friendly Option
For its price, the TUO Nakiri Knife offers unbeatable value. Its high-quality materials and impressive performance rival that of much more expensive knives, making it an excellent choice for home cooks and culinary students on a budget. This knife is sure to become a go-to tool in your kitchen for years to come. [2]
Final Verdict
In conclusion, the TUO Nakiri Knife is a top-performing and budget-friendly option for any home cook looking best Nakiri knife under $100 reddit. With its durable German stainless steel blade, comfortable Pakkawood handle, and elegant design, this knife is not only functional but also aesthetically pleasing. The TUO brand's commitment to excellence and affordability makes it a popular choice for culinary students and home cooks alike. Whether you're a beginner or an experienced chef, the TUO Nakiri Knife is sure to become a reliable and essential tool in your kitchen for years to come.