A grill cover may not be necessary, but buying one can protect your grill from harsh weather conditions such as water, rain, dampness, and snow and extends its life to many years. Moreover, it also protects the grill from animal contamination, such as bird feces, dirt, and pollen. But buying the best grill cover on amazon is challenging as there is massive competition in the market, and you may get confused quickly. 
To help you choose the one that exactly matches your needs and budget, we asked our team of experts to do a little research and test the various grill covers on amazon. Among all the amazon grill covers that our testers reviewed Nexcover stands out in terms of both durability and convenience making it one of the best grill covers on amazon. [1]
Let's see the features of the Nexcover BBQ grill cover.
NEXCOVER Barbecue Grill Cover Features
Compatibility
One of the features that we love about this grill cover is its broad compatibility with various brands. The body is ideal, and you can fit with the most popular brand grills such as Weber, Kenmore, Brinkmann, Jenn Air, Holland and Char-Broil, and more. This means you don't need to buy the new cover even if you change your grill cover or buy a different brand of grill, making it a good investment of your money.
Quality Build
The grill cover is made with premium quality oxford fabric that ensures the durability and longevity of the cover. The oxford is heavy-duty and coated with PVC coating to make it water-resistant and enhance the cover's durability. As a result, you can protect your grill from all the harsh weather conditions such as water, snow, rain, and more.
Easy to Use
Apart from durability, the grill cover is also highly user-friendly. The grill cover is designed with an air vent that keeps your grill dry in all seasons and protects it from dampness. While the straps and handles keep the cover tight around the grill, prevent it from blowing even in the strongest wind, and allow you to move the grill around with the cover on conveniently.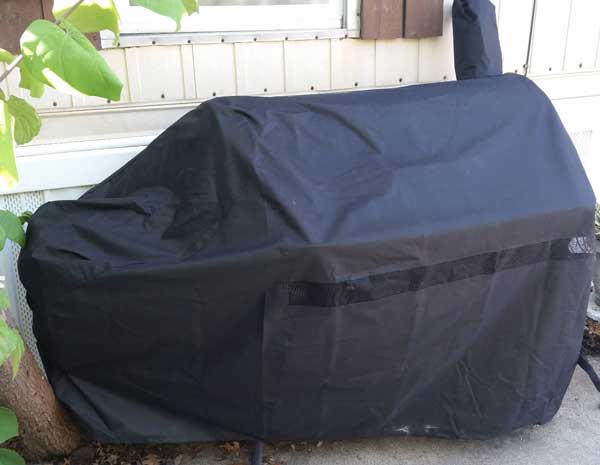 Furthermore, the grill cover is light in weight and easy to wash and clean. Although it is not a dishwasher, you can effortlessly wash it with water and detergent and dry it in the open space. However, do not use strong detergent as it may damage the cover fabric. [2]
Reading the Grillman grill cover review can help you know its features with pros & cons.
Affordable in price
Above all, the grill cover is highly affordable in price. Compared to other covers in the market, Nexcover is cheap, and not to mention it comes with an exceptional 12-month and 6 days money-back guarantee. So if any damage occurs in 6 days, you can get your money back anytime.
Final Verdict
Grills and smokers don't come cheap so protecting them from harsh weather is essential for their longevity. Next over, the BBQ grill cover is an ideal option with premium quality built and compatibility. It is easy to use and comes at an affordable price. So, if you want to buy a grill cover that can last long, Nexcover is an ideal choice.