Whether you're going to grill a bunch of hot dogs and barbecue for friends or family gathering or just a few veggies and steaks for your partner on your charcoal grill, we know grilling can become quite messy. Thus, it is necessary to have the best grill cleaner brush that can efficiently clean your charcoal grill after long hours of grilling. But all gril brushes are not created equal.
Looking for the best grill cleaner spray? We've reviewed top 10 spray cleaners for you to select from.
There are many grill brushes in the market that come at a hefty price but don't offer the same result as advertised. That's the reason many people end up buying poor quality brushes which are only a waste of their money. We have tested loads of top rated grill cleaner brush non metal for weeks and found Kona 360 Clean Bristle Free Grill Brush as one of the best that works perfectly and clean your grill like new. So, if you want to keep your grill stain and debris free, read our guide below.
Things to Consider
Make sure the brush has a long handle. The longer the handle the safer will be your hand from the hot grilling grates.
Since, you will have to store the brush after the use, so try to look for a brush that has some kind of hooks to hang it for proper storage.
Ensure that the brush must come with sturdy bristles. Loose bristles often come out and contaminate the grill.
One of the most common problems that we face during cleaning a grill is to remove the crust from the grates. This requires a scraper and can't be done with a cleaning brush only. So, it would be best if you buy a cleaning brush that has a built-in scraper. Many grill cleaning brushes now come with built-in scrapers. [1]
Kona 360 Clean Grill Brush
Among all the grill cleaner brush brands that our team reviewed, Kona is the one that stands out for producing premium quality brushes. Kona 360 Clean Grill Brush comes with a unique design and quality build that ensure you can efficiently clean your grill like new after every use.
Kona 360 comes with three brushes in total which mean eah stroke is equivalent to three strokes, making it a perfect choice for removing tough stains and grease.
What to use to clean a grill? You should check this guide to know more.
Unlike other grill cleaner brushes, it has an 18 inches long handle that makes the cleaning process further convenient. Thus you don't need to make too much effort to clean the grill and can also prevent your hands from burning and scalding.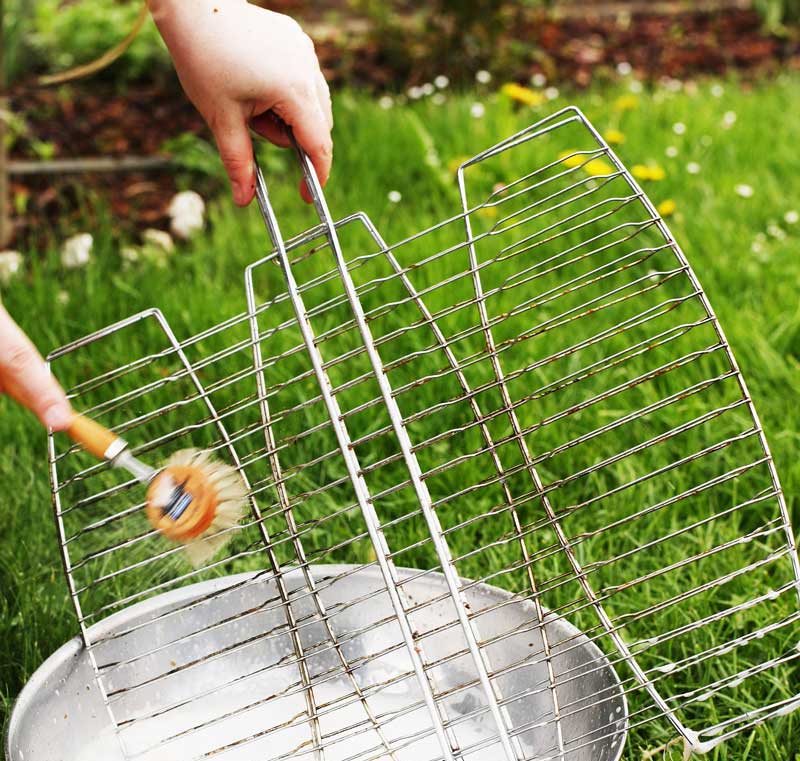 The longer brush can also make it easier to clean the hard to reach areas, not the top surface only. Above all, this brush is much more rigid than you can imagine. The brush bristles are manufactured with hard wired stainless steel that is rust and corrosion resistant. This means, the brush will not bend or become flimsy and last for a longer time.
Do you know what is the best grill cleaner?
So, if you are looking for a grill cleaner brush that is not only durable but also convenient to use with maximum protection then this is the right choice for you. [2]
The Verdict
A grill cleaner brush is critical to keep the grill sparkling and free from unwanted grease and stains. Choosing the right grill cleaner brush may be tricky but with the right buying guide you can easily get the one that suits your needs and budget. Kona 360 grill cleaner brush is one of the ideal brushes that our analyst found among the top rated brushes in the market.