Gas grills have become more demanding and popular among people as they are more convenient and easy to use. As compared to charcoal grills they produce less mess and you have more control over the temperature. However, the gas grill tends to be pricey compared to the charcoal one. Moreover, there is large competition in the market, thus finding the best gas grill under $500 is quite challenging.
Want to buy the best gas grill? We've reviewed the top 10 gas grills for you to select.
That's why we have asked our team of experts to research and analyze the top-rated gas grills in the market and find the one that's highly durable and comes at a reasonable price. You will be surprised to know that out of tens of gas grills, the Monument gas grill stands out for its outstanding performance and sturdy build.
So, keep reading to discover what makes Monument Gas grill one of the best gas grills under $500. We have added everything from specifications to features and all the possible advantages and drawbacks of the grill that you need to consider before making the decision. [1]
Specification
Stainless steel body
Porcelain-coated cast iron grates
Four burners
Eight years of burner and one year of grill guarantee
60,000 BTUS COOKING POWER
723.3 sq. in. cooking area
Monument Gas Grill Features
Monument grills have an excellent history of manufacturing premium quality grills with unique designs and efficient performance. Their grills are packed with fantastic features that can surely make your grilling experience more effortless and enjoyable. This 4-burner propane gas grill is also not an exception. Here is a comprehensive breakdown of the features that make this gas grill worth your penny.
Design
Monument gas grill has an excellent design with a large cooking space and four burners that provide you enough space to grill large amounts of food in one go. The grill is made with premium quality stainless steel that is corrosion and rust resistant making it one of the most durable gas grills.
Clearview glass lid
This grill comes with a window that has a glass window to provide a clear view of the food inside the grill. This allows you to peep at the food without removing the lid of the grill. So now you can effortlessly track the temperature and monitor the cooking process without any hassle.
LED control knobs
Another convenient feature of the Monument gas grill is the LED control knobs that increase visibility at night and provide more control over the temperature. So, if you're planning to use the grill at night this is a helpful feature.
Reading the Weber grills review will give you an overview of it if you're going to buy it.
Large cooking and storage space
The grill comes with an exceptionally large cooking area of 683 square inches that provides you with enough space to cook your favorite meat and veggies in large quantities in one go. So, if you're grilling for your family or friends, this gas grill is the ideal option for you.
Moreover, the grill has a large storage cabin that allows you to store the fuel tank while providing sufficient space for other accessories. This means you can easily store the utensils and other equipment necessary for grilling in the grill.
Easy to use
Apart from the unique design, the grill is pretty effortless to use. It has an electronic ignition system with LED control knobs that are straightforward and effortless to use. What's more, the grill also has a built-in thermometer in the center of the lid that allows you to monitor the temperature throughout the grilling process to prevent the food from burning. It also has removable grease drip pans and grates that make the cooking process easy and quick. [2]
Affordable price
Despite the premium quality build and outstanding performance, the Monument gas grill comes at a rather inexpensive price making it one of the best affordable gas grills. The construction is high quality and the grill has a large space for cooking making it an ideal option for those who are looking for the best gas grill under $400.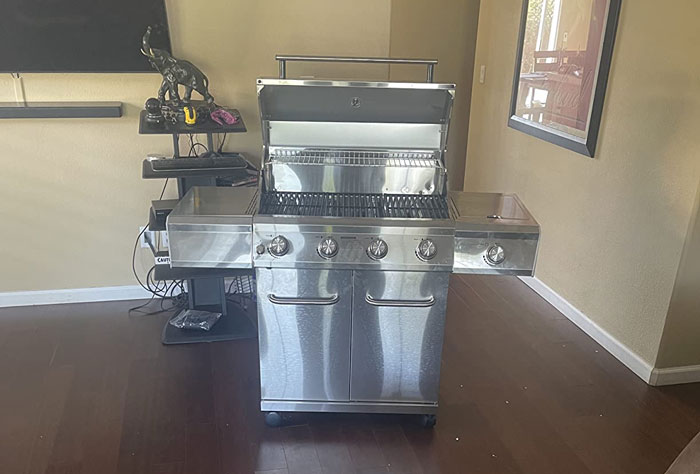 Prominent Pros
Highly Durable & portable
Easy to use
Low cost and excellent quality
Large cooking space
Large storage cabins
Rust and corrosion resistant
Notable Cons
The only downside is that the top rack is too low.
Final Verdict
So, if you're looking for an affordable gas grill that can provide excellent performance and is made of the finest quality material at the same time, Monument gas grill might be the right choice for you. This amazing gas grill has a pack of advanced features to enhance your grilling experience and make it more enjoyable and memorable.