When it comes to the best cookware set for the kitchen, All-Clad copper core cookware sets stand for their outstanding cooking performance and extraordinary resilience. Despite their high prices, All-clad cookwares are considered the benchmark by people all around the world. That's not all, they have also set the standards for other leading brands such as Caphlon, Made In, and   Mauviel. But is this brand really worth it? That's why we wrote the All-Clad Copper Core Cookware Set review.
All clad d3 vs d5, which is better to use?
Let's start with the history of All-Clad Cookware…
All-Clad cookware has a marvelous history of a century. It was founded by John Ulam (a metallurgist who invented the cladding process) in 1917. He bound the stainless steel with aluminum to enhance the heat retention and durability of cookware, which was later followed by other cookware manufacturers. Tri-ply cladding also known as 3D-cladding was one of the first stainless steel aluminum cookware launched by All-Clad. To this day, All-Clad D3 sets the benchmark for other copper core cookware manufacturers. [1]
All-Clad Copper Core Cookware Set Features
Design
Made in the USA, the All-Clad copper core comes with a versatile and exquisite design that you can proudly display on your countertop. It has five sandwiched layers of metal alloy: stainless steel, aluminum, copper, aluminum, and stainless steel (in order, from inside to out). To make it more tempting, All-clad trim the exterior steel to expose the inner copper on the rims of the pan or pot.
Durability
When it comes to durability no cookware brand can beat All-Clad cookware. Whether it is stainless steel cookware or copper core cookware, All-Clad is the leading brand that manufactures products with the highest durability. Generally, All-Clad copper core cookwares are 1.77 mm, but the core is almost 1 mm of copper, that's why the pan is thin but highly durable and doesn't wrap easily.
Heating
The heat conductivity of cookware is one of the most important factors that contribute to its effective performance. How long cookware takes to heat up and how long it retains the heat is important to check the credibility of cookware. According to our test, All-Clad cookware heats up quickly and provides even heat distribution, thus enhancing your cooking experience. Since it contains 1 mm of copper thus it heats up and cools down faster than other stainless steel cookware. So, if you want to turn down the temperature immediately to rescue the food from burning or scalding, it is the ideal choice for you.
Cleanliness
Since it is not a non-stick cookware, we can't say that the cleaning process is easy as sometimes you may burn the food and it sticks to the pan making the cleaning challenging. However, it still does better than stainless steel cookware.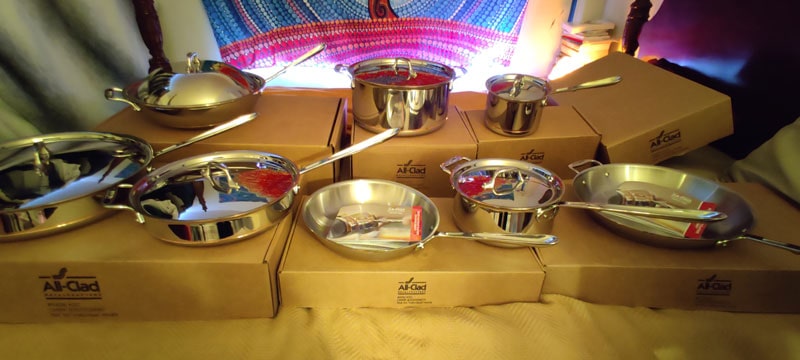 User friendly
When it comes to handling and ease of use, All-Clad is pretty excellent than other stainless steel cookware. Firstly, pans come with flared rims that prevent spilling while pouring. Secondly, they had a finger guard on the handle that ensured a smooth and sturdy grip. Although the handle stays cool, it gets hot on the stovetop. So, it would be better to wrap the handle with a towel to avoid any accidents.
Is an all-clad copper core 4 qt saucepan worth buying?
Versatility
One of the most important things that we loved about All-Clad cookware is its versatility. These cookwares are oven and broiler-safe, dishwasher and induction compatible. Most importantly, All-clad copper core cookware comes in a range of sets such as:
all-clad copper core 7-piece cookware set
all-clad copper core 10-piece cookware set
all-clad copper core 14-piece set
all-clad copper core 15-piece set
all-clad copper core 33-piece set
So, whether you're looking for a simple cookware set or a more versatile and large cookware set you can choose between them. [2]
Final Verdict
All-Clad cookware comes with excellent quality material and offers outstanding performance but they are quite expensive. So, If you're into a more stylish, luxurious, and responsive cookware type regardless of the price we would highly recommend you this cookware. Since they are dishwasher and oven safe, so it is pretty easy to use and clean them.